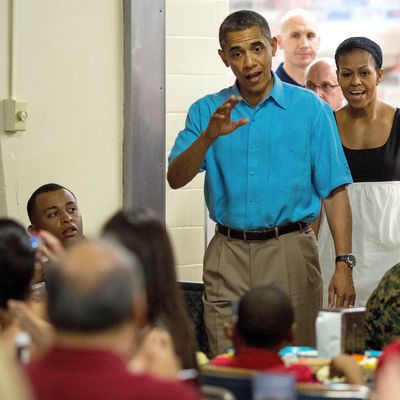 Obama greets some soldiers in Hawaii.
Photo: Kent Nishimura-Pool/Getty Images
Before departing for his traditional holiday vacation in Hawaii on Friday, President Obama expressed his hope that after relaxing for a few days — "drink some eggnog, eat some Christmas cookies," he suggested — Congress might return to Washington this week refreshed and ready to reach a deal to avoid at least part of the fiscal cliff, which will begin hitting the economy on January 1.
So far, the eggnog has not had its desired effect. "Little progress has been accomplished over the holiday weekend, with virtually no talks between Republicans and the White House," the Washington Post reports. CNN says that "no weekend conversations occurred between the White House and Senate leaders from either party or their aides."
However, Obama will be leaving his "uneventful vacation of golfing, hiking and exercising" on Wednesday night to return to Washington. Congress is expected to join him there on Thursday, although, as of yesterday, "House members had not received the standard 48-hour warning to come back to Washington," Politico reports, because "Boehner and other GOP leaders aren't going to herd 433 lawmakers back to town with nothing to do," which sounds like a self-fulfilling prophecy. 
If eggnog doesn't do the trick, maybe coffee will:
Chief Executive Howard Schultz is urging workers in Starbucks' roughly 120 Washington-area shops to write "come together" on customers' cups on Thursday and Friday, as U.S. President Barack Obama and lawmakers return to work and attempt to revive fiscal cliff negotiations that collapsed before the Christmas holiday …

"We're paying attention, we're greatly disappointed in what's going on and we deserve better," Schultz told Reuters in a telephone interview.
What about apple cider? Orange juice? We're not going to reach a fiscal cliff deal until we get all of our beverages involved.
Update: Here's DI Chait discussing the fiscal cliff on MSNBC today: