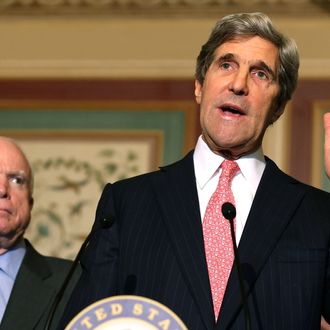 Even John McCain can't complain.
Photo: Mark Wilson/Getty Images
Chicago Sun-Times columnist Michael Sneed writes today that, according to an inside tip he's received, President Obama has made up his mind to nominate Senate Foreign Relations Chairman John Kerry to succeed Hillary Clinton as Secretary of State. It's not exactly a surprise. Now that U.N. Ambassador Susan Rice has taken the high road by withdrawing her name from consideration, Kerry remains the safest option around. He's reportedly Clinton's first choice for the gig, and is expected to sail through a swift boat-free confirmation process, thanks to Republicans' eagerness to see him vacate his Senate seat, which could then easily be picked up by a just-defeated Scott Brown. And, if Sneed's tip is correct, it might also mean Obama is finally ready to unveil all his picks for his second term Cabinet, whose CIA, Pentagon, and Treasury positions are all up for grabs. 
Update I: A source familiar with the process tells Fox News Channel's Ed Henry that Kerry's nomination "it's now basically a done deal," and that Obama will likely offer him the post in the next few days. 
Update II: A Democrat who spoke to Kerry on Saturday told CNN that it's definitely happening.