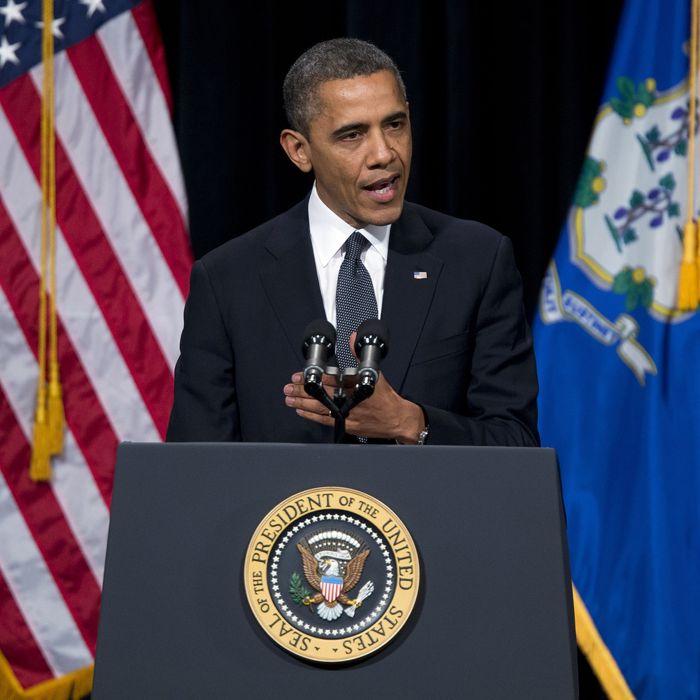 The most difficult day of Barack Obama's presidency was Friday, when he got the news of the shooting that ravaged Sandy Hook Elementary School in Newtown, Connecticut, the president told Gov. Dannel P. Malloy on Sunday in the hours before he spoke at an interfaith vigil to commemorate those killed. And as Obama mourned the dead and exhorted the rest of the country to remember them, he chastised the nation:
>
Can we truly say as a nation that we're meeting our obligations? Can we honestly say we're doing enough to keep our children, all of them, safe from harm? Can we claim as a nation that we're all together there letting them know they're loved and teaching them to love one another in return. Can we say we're truly doing enough to give all the children of this country the chance they deserve to live out their lives with happiness and with purpose. I've been reflecting on this the last few days and if we're honest with ourselves the answer is no. We're not doing enough. And we will have to change.
The president went on to promise he would lead that action, but he did not specify exactly what form it would take.
In the coming weeks I'll use whatever power this office holds to engage my fellow citizens from law enforcement to mental health professionals to parents and educators, in an effort aimed at preventing more tragedies like this. Because what choice do we have? We can't accept events like this as routine. Are we really prepared to say we're powerless in the face of such carnage? That the politics are too hard? Are we prepared to say that such violence visited on our children year after year after year is somehow the price of our freedom?
Obama's was the culminating speech in an evening of prayer and remembrance that included fifteen faith and political leaders from Newtown and surrounding areas. Gathered in an auditorium at Newtown High School, the largely stoic crowd was dotted with children, whose parents held them as moments of silence came between prayers. Outside the auditorium people gathered to publicly support those who lost loved ones in Friday's massacre and in private, Obama met with the families of the victims. A photograph of him holding the granddaughter of deceased Sandy Hook principal Dawn Hochsprung circulated widely on Twitter.
In addition to his call to action in preventing future tragedies (one arguably at odds with his record on gun control, the Guardian argues), Obama pondered life as a parent — "the equivalent of having your heart outside of your body all the time" — and he urged Americans to come together as a community. "There's only one thing we can be sure of, and that is the love that we have, for our children, for our families, for each other." Then he slowly read the names of the twenty children killed.