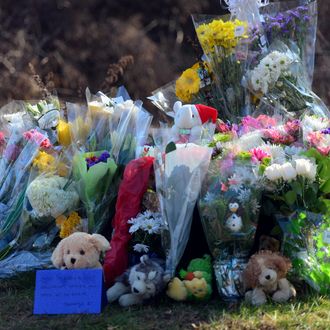 A makeshift memorial in Newtown.
Photo: Emmanuel Dunand/AFP/Getty Images
During a Saturday afternoon press conference, Medical Examiner H. Wayne Carver II released some additional information about those killed at Sandy Hook Elementary School on Friday, along with the victims' names. Carver described the fatal injuries he saw inside school as "the worst that I have seen" and "the worst that I know any of my colleagues have seen." Most of the children were first graders, and Carver said all the bodies he examined were "hit more than once" by a one weapon, which he described as "a rifle." The names of the kids and adults who died are below, along with some remembrances of them collected by various news outlets:
Dawn Hochsprung, 47: The principal reportedly died while attempting to tackle gunman Adam Lanza as he entered the building shooting. Though she'd only been at Sandy Hook for a few years, she has been described as a "charismatic" and creative administrator who eagerly posted to her Twitter feed about the activities of her students. Speaking about the school to the Newton Bee in 2010, she said, "I don't think you could find a more positive place to bring students to every day."
Mary Sherlach, 56: The school's longtime psychologist also confronted Lanza alongside Hochsprung. Sherlach had plans to retire soon, though her son-in-law said during a Saturday press conference that she had always loved her job: "Mary felt like she was doing God's work, working with the children."
Anne Marie Murphy, 52: Murphy's parents remembered their daughter, a teacher's aide, as "a happy soul. A good mother, wife and daughter. Artistic, fun-loving, witty and hardworking." She reportedly died trying to shield her students from the gunfire. 
Lauren Rousseau, 30: Rousseau, who, according to her mother, was having "the best year of her life," had just landed a permanent substitute teaching job at the school after working there occasionally for several years.
Victoria Soto, 27: Another teacher, Soto is also being called a hero for trying to save the kids in her classroom. Her cousin told Fox NY, "The comfort is knowing that Vicki passed away doing what she loved to do and we're proud to know that and it brings peace to the family to know she was protecting those kids."

Rachel Davino, 29: Davino was a teacher's aide who taught special education students. 
Charlotte Bacon, 6: "She was going to go some places in this world," her uncle told Newsday. "This little girl could light up the room for anyone."
Daniel Barden, 7: A "sweet boy" and "budding athlete," Barden was remembered by a friend — a Sandy Hook third-grader — as someone who "likes to play foosball and soccer."
Olivia Engel, 6: "She loved attention," said a family friend. "She had perfect manners, perfect table manners. She was the teacher's pet, the line leader."
Ana M. Marquez-Greene, 6: In a Facebook wall post, Marquez-Greene's father wrote, "As much as she's needed here and missed by her mother, brother and me, Ana beat us all to paradise. I love you sweetie girl."
Dylan Hockley, 6: In a note attached to some family photos, Hockley's mother recently wrote to her own mother that her two sons were "no longer babies, their personalities are really shining through the shots now." "They chose that town to live in specifically because the school was so good," the grandmother told The Mail on Sunday. "My daughter told me, 'It's safe and lovely here Mum.'"
Catherine V. Hubbard, 6: Her parents released this statement: "We are greatly saddened by the loss of our beautiful daughter, Catherine Violet and our thoughts and prayers are with the other families who have been affected by this tragedy. We ask that you continue to pray for us and the other families who have experienced loss in this tragedy."
Chase Kowalski, 7: "You couldn't think of a better child," recalled a neighbor who said Kowalski won his first mini-triatholon last week. 
Jesse Lewis, 6: "He was always friendly, he always liked to talk," said the manager of a restaurant Lewis's family frequented. "Jesse liked to think up far-fetched scenarios, asking 'What if…' before spinning a hypothetical tale," a family friend remembered. 
Emilie Parker, 6: In a Saturday evening press conference, Parker's father described her as "very close" to her two younger sisters: "She was teaching my middle daughter to read. She would help my youngest daughter how to make things, show her how to do crafts." She was "the type of person who could just light up a room," he added. "An incredible person." 
Noah Pozner, 6: "When I was his age, I was not like him," Pozner's uncle told Newsday. "Very well brought up. Extremely bright. Extremely bright."
Grace McDonnell, 7: "She was a wonderful little girl. She was always smiling," recalled McDonnell's grandmother. "I think everybody should know about these beautiful children whose lives were cut short."
Caroline Previdi, 6: An online memorial has been set up here.
Jessica Rekos, 6: In a statement sent to the New York Times, Rekos's family remembered her love of horses and how she'd asked Santa for cowgirl boots and hat. "Jessica was our first born. She started our family, and she was our rock," they wrote of their daughter. "We cannot imagine our life without her."
The other children killed were Madeleine F. Hsu, 6; James Mattioli, 6; Benjamin Wheeler, 6; Jack Pinto, 6; Avielle Richman, 6; Josephine Gay, 7; and Allison N. Wyatt, 6. We'll update if and when anyone close to them releases a statement. 
Donations to the families of the victims can be made here.