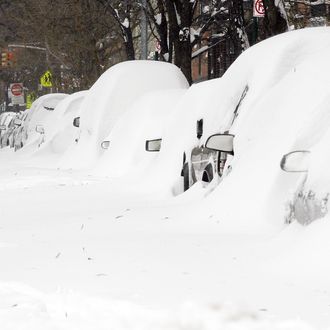 Remember this?
Photo: Mario Tama/Getty Images
If you left New York for the comforts of home this holiday season, chances are you're just about ready to head back to Times Square (just in general) and the crowded subways we all love so much. But a snowstorm over Ohio could put all that on hold. According to the Weather Channel's Tom Niziol, blizzard warnings are stretching for 730 continuous miles across the Midwest owing to "Winter Storm Euclid."
Naturally, it's cramping all our carefully planned holiday escape routes. By car, definitely avoid Interstate 71 and all that's related to it (the expanse between Cincinnati and Cleveland). By plane, check your flights — 300 have already been canceled, with more delays expected as the blizzard gets heaviest around 2 p.m. today.
NBC reports the storm could migrate into southern New York, leaving the Northeast with a foot of snow and possible "severe thunderstorms in the Southeast Atlantic, and a tornado threat in the eastern Carolinas." Similarly, NPR is live-updating the strange weather.
No word yet on whether moms across the country banded together to keep us all home a few extra days.