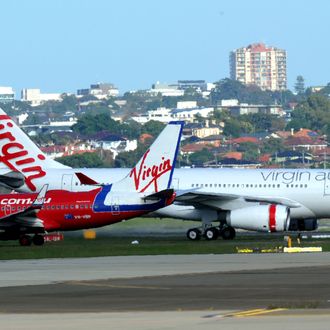 Delta-bound?
Photo: TORSTEN BLACKWOOD/AFP/Getty Images
A primary reason why flying is so terrible is that, over the past several decades, the airline industry has been undergoing a massive consolidation that has left only a few carriers standing. Less competition generally means higher fares and weaker performance, and the combination of separate airlines into a unified whole introduces a whole host of issues (labor integration, loyalty programs) that can jeopardize the flying experience. American Airlines, itself a product of dozens of mergers and acquisitions, is now essentially eating itself alive while operating in Chapter 11 bankruptcy.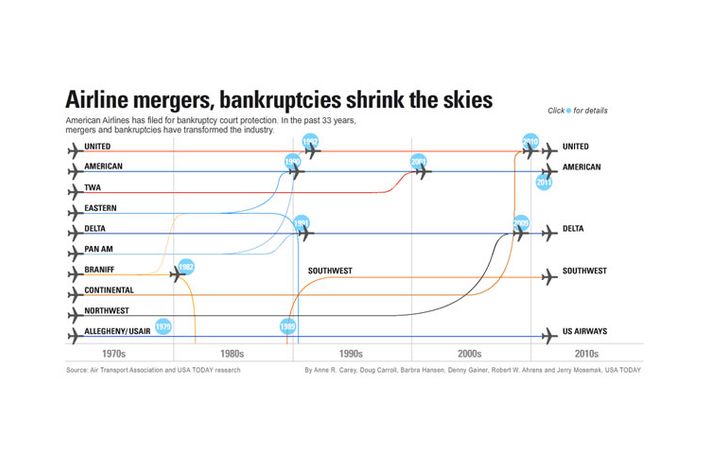 M&A activity in the airline industry has tended to skew domestic, and cross-border acquisitions are relatively rare. Some of that trend is related to the law (in Europe, for example, it is illegal for a non-EU-based firm to own a majority stake in a European airline). But it's also a matter of prudence. It's easier and more advantageous for airlines to team up and form alliances, with names like SkyTeam and OneWorld, than try to take over nondomestic airlines one by one.
Now Delta — one of the baddest of bad U.S. airlines, in my experience — is reportedly making a move to acquire a 49 percent stake in Virgin Atlantic, the British airline that is majority-owned by billionaire Richard Branson. Virgin Atlantic — which is, confusingly, a separate company from Virgin America — is the best international airline I've ever flown. I've taken it a bunch between London and New York a year or two ago, and it's reliably on time and comfortable. It's also one of the last truly independent major airlines – assign correlation/causation as you will.
Matt Yglesias explains that Delta's move is a concealed takeover bid that will allow Delta and its alliance to skirt the EU's laws and take control of Virgin Atlantic. If the deal goes through, it would open up Heathrow and other Virgin hubs for Delta customers. And it might even provide some short-term benefits for customers of both airlines. But in the long run, it will leave us with an even more massive, even less adaptable airline. And, without knowing what Delta's integration plans for Virgin might be, it's safe to bet that enjoyable perks like fashion-forward flight attendant uniforms might fall by the wayside under Delta's control.