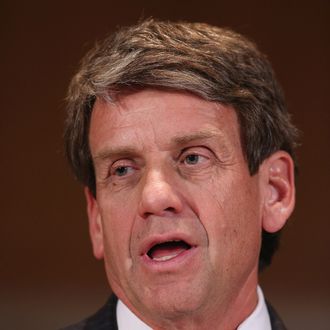 Michael Farris.
Photo: Chip Somodevilla/2012 Getty Images
Since July, three anonymous bloggers at the Über-conservative Patrick Henry College in Purcellville, Virginia, have been running Queer Patrick Henry College, a blog about sexuality and identity on campus. You might expect such a website to elicit some concern at a school with a policy forbidding students from "advocat[ing] non-Biblical sexual practices," according to the student handbook. But chancellor (and constitutional lawyer) Michael Farris went much further: He threatened to take the bloggers to court.
In a private message to the blog's Facebook page on Saturday, Farris claimed that QueerPHC infringes on the school's copyright of the name "Patrick Henry College," and admonished them to talk about LGBT students at Patrick Henry College "without using the term 'Patrick Henry College' in any manner." Farris further warned that if the blog wasn't taken down, the school would pursue legal action, reveal the bloggers' identities, and "seek damages from you as permitted by the law." QueerPHC promptly posted the message.
One of the bloggers, who goes by Kate Kane, told Daily Intel this afternoon, "Despite the college's claims that they foster open dialogue on tough issues, their first response on this has been to attempt to bully and censor us through the misapplication of copyright and trademark laws. We find that incredibly disappointing."
The threat, however, was short-lived. In a follow-up message to QueerPHC earlier this evening, Farris wrote, "While we believe in the inappropriate nature of the use of our trademarked name, we believe that litigation is not appropriate." Reached by phone after making an appearance on Glenn Beck's TV show, where he "discuss[ed] the Convention on the Rights of Persons with Disabilities and why this treaty is incompatible with American constitutional law," Farris did not elaborate on his change of heart.