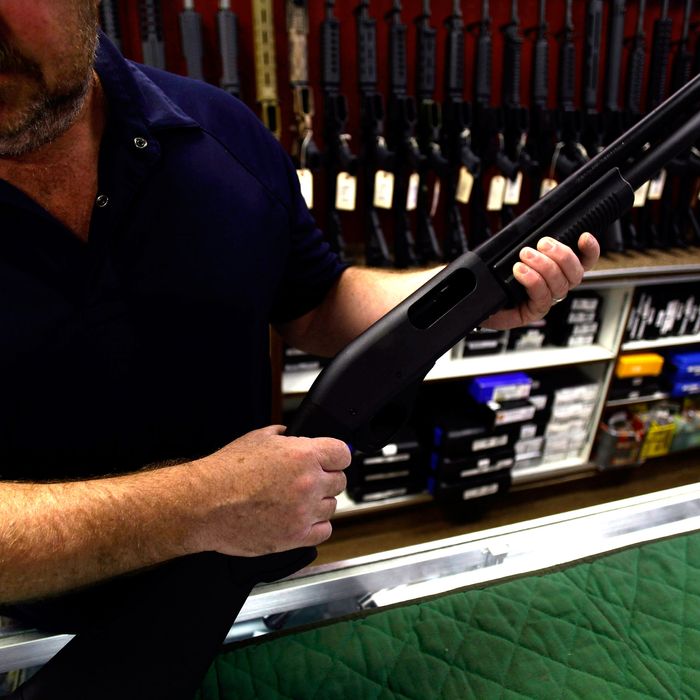 Photo: Joshua Lott/Getty Images
There's a key scene in Big where Tom Hanks wakes up, stumbles out of bed, looks in the mirror, and discovers that he's been turned from a 12-year-old boy into a full-grown, powerful man.
Something like that happened in the financial world last week when the California State Teachers Retirement System, a public pension fund, found itself bossing around Cerberus Capital Management, the mighty New York private-equity firm. Cerberus, it emerged, owns the company that makes the Bushmaster semiautomatic rifle used in the Sandy Hook spree (along with other gun companies). CalSTRS, which has $750 million invested in Cerberus funds, made it known that it wasn't happy about this news.
Hours later, Cerberus — whose CEO's father lives in Newtown — announced that it was putting its firearms holdings up for sale.

It was a rare turn of events in the private-equity business, which typically sees pensions bowing to buyout shops, not the other way around. And now some industry gurus are worried that CalSTRS's success could empower other pension funds to flex their morals as well. "I don't think it's a one-off," one senior private-equity executive said of the Cerberus incident. "Something has been brewing for a while."
The 2012 campaign made it easy to view private-equity firms — the Bains and Blackstones of the world — as the puppeteers of capitalism. Pension funds, meanwhile, occupy a lower rung on the Wall Street ladder and are seen by some in the industry (their own managers often included) as less sophisticated market players. But they have more clout than they realize.
One thing pension funds have going for them is size. Together, pension funds and endowments provide roughly $850 billion to the private-equity industry, or 52 percent of the total money these firms take in, according to research firm Preqin. Public pension funds — the kind of organizations that invest the retirement savings of teachers, policemen, and other government employees — make up the biggest chunk of that sum by far, with some $475 billion invested. That kind of money talks in the private-equity industry, where typical fees are 2 percent of the assets under management. A pension that hints at pulling $200 million from a future fund is effectively threatening to shave $4 million annually from the private-equity firm's bottom line.
"If a pension is 10 or 20 percent of a fund, and they're vocal, that has power," says Michael Schlachter of pension fund consultants Wilshire Associates. "At the end of the day, you are the client."
Most pension funds also belong to industry groups like the Council of Institutional Investors and the Institutional Limited Partners Association, which multiplies their leverage.

"What starts in one LP, the other LPs take notice of it," Schlachter says, and indeed, funds in New York and Massachusetts have already announced that they are reviewing their firearm investments in the wake of the Cerberus incident.

Choosy pension funds aren't new. Those affiliated with religious organizations have long been wary of birth control manufacturers, and health-care pensions have shied away from tobacco stocks. And there are limits to how much pension funds can press their political agendas through threatening to pull their stakes — they need private-equity firms to help them hit their return targets, and a pension that complained about every dubious investment could find itself left out in the cold.
But the Cerberus incident marked an important evolution: A public pension had effectively declared the entire firearms sector off-limits. "This could now be a pariah industry that large segments of the capital markets will not touch," the private-equity executive said.
And if that works for guns, there's not much to stop another union's pension funds from threatening to pull money from, say, a private-equity firm invested in a labor-hostile casino chain, or a university endowment to want to cut ties with Big Coal. Those might seem like far-fetched scenarios. But when a group of California teachers can bend a firm named after a creature of hell to its will, suddenly such turns don't seem impossible.