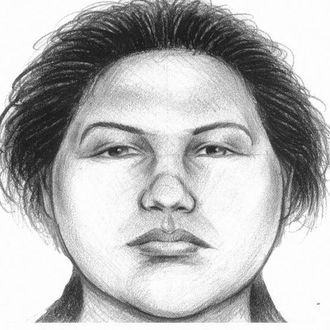 Police sketch of the suspect.
The NYPD has arrested the person believed to be responsible for the death of Indian immigrant Sunado Sen, who was pushed onto the tracks of the 40th Street-Lowery Street subway station in Queens on Thursday night. Erica Menendez, a 31-year-old woman, was found at around 5 a.m. on Friday morning on the corner of Empire Boulevard and Bedford Avenue in Brooklyn, where she reportedly mumbled to herself and asked for directions to the R train as she was questioned by the police. On Saturday afternoon, Queens district attorney Richard A. Brown announced that Menendez is being charged with second-degree murder as a hate crime.
"The defendant is accused of committing what is every subway commuter's nightmare," Mr. Brown said in an interview. "Being suddenly and senselessly pushed into the path of an oncoming train."

In a statement released by the district attorney's office, Mr. Brown quoted Ms. Menendez, "in sum and substance," as having told the police: "I pushed a Muslim off the train tracks because I hate Hindus and Muslims ever since 2001 when they put down the twin towers I've been beating them up." Ms. Menendez conflated the Muslim and Hindu faiths in her comments to the police and in her target for attack, officials said.
Investigators are said to have been acting on a tip from the suspect's family members, who recognized her on a surveillance video released after the attack. "All I know is that she's bipolar and as far as seeing the footage, I'm pretty sure it was her," one cousin told the New York Post. "I don't know much about her whereabouts or what she's been up to these past few months." Though the police spent much of Friday looking for the suspect in shelters and psychiatric facilities, officials said that she does not seem to be homeless. No details of her mental health or criminal history have been released.
The news likely won't do much to calm the nerves of New Yorkers freaked out by this latest subway pushing incident, which was even more random similar death of Ki-Suk Han, who was at least arguing with his attacker before he was shoved onto the tracks. (People who saw Sen die say he did not even see Menendez as she approached, and that there was no time to help him before the train hit.) On Friday night, Mayor Bloomberg told reporters, "You can say it's only two out of the three or four million people who ride the subway every day, but two is two too many." However, he added, "I don't know that there is a way to prevent things. There is always going to be somebody, a deranged person." 
This post has been updated throughout.