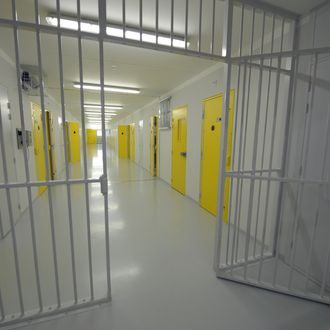 Cells of the new penitentiary in Reau, East of Paris, are pictured on September 13, 2011, as part of French president Nicolas Sarkozy's visit before its opening next October.
Photo: BERTRAND GUAY/Getty Images
Early this morning, a prisoner opened fire inside the police headquarters in Gloucester Township, New Jersey, ultimately wounding three police officers. According to ABC news, one is undergoing surgery and two have been treated for bullet graze wounds while the gunman was shot and killed. No word yet on what his motivation was, but we imagine being in jail may have been a factor.
Update: CBS News in Philadelphia reports: "During an impromptu press conference, the deputy police chief told the media that the incident occurred around 5:30 a.m. inside the building when a suspect being taken into custody for a domestic violence-related incident got into a confrontation with officers. The suspect was able to take a firearm and opened fire on the officers."
A more official press conference is scheduled for 3:00 p.m. today.