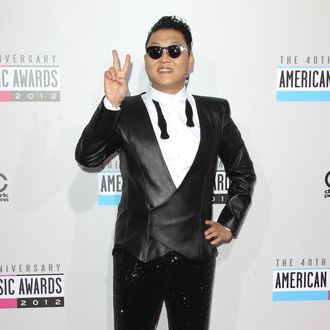 Peace, you guys!
Photo: Jen Lowery/Splash News/Corbis
Over the past few months, everyone from civil rights leaders to your mom, probably, has been doing the horse dance popularized by the music video for "Gangnam Style," which, with more than 900 million views, is now the most successful YouTube video of all time. The mastermind behind it all is Psy, the South Korean pop star who has charmed the nation during appearances on Saturday Night Live, Today, and Ellen. Thanks to the willingness of Americans to embrace a song they can't even comprehend, Psy has become very rich and very famous. From what we can tell, it couldn't have happened to a nicer guy!
Or maybe it could have! During a 2004 protest against the U.S. presence in Iraq following the beheading of a Korean missionary, Psy, during a song called "Dear American" by the band N.E.X.T., rapped the following lines:
Kill those fucking Yankees who have been torturing Iraqi captives
Kill those fucking Yankees who ordered them to torture
Kill their daughters, mothers, daughters-in-law and fathers
Kill them all slowly and painfully
We don't feel like doing the horse dance anymore.
For now, Psy is still due to perform on Sunday at the Christmas in Washington concert, with President Obama in attendance. At the very least, we have a feeling that Psy's dream of personally teaching the horse dance to Obama is not going to happen.
Update, 2:55 p.m.: A representative from the National Building Museum says that, "as far as we know," Psy is still set to perform on Sunday. But TNT is the one running the show, so it's up to them.
Update II, 4:45 p.m: Psy has released a statement of apology:
"As a proud South Korean who was educated in the United States and lived there for a very significant part of my life, I understand the sacrifices American servicemen and women have made to protect freedom and democracy in my country and around the world. The song I featured on in question from eight years ago – was part of a deeply emotional reaction to the war in Iraq and the killing of two Korean schoolgirls that was part of the overall antiwar sentiment shared by others around the world at that time.  While I'm grateful for the freedom to express one's self, I've learned there are limits to what language is appropriate and I'm deeply sorry for how these lyrics could be interpreted. I will forever be sorry for any pain I have caused by those words.
"I have been honored to perform in front of American soldiers in recent months – including an appearance on the Jay Leno show specifically for them-  and I hope they and all Americans can accept my apology. While it's important that we express our opinions, I deeply regret the inflammatory and inappropriate language I used to do so. In my music, I try to give people a release, a reason to smile. I have learned that thru music, our universal language we can all come together as a culture of humanity and I hope that you will accept my apology."