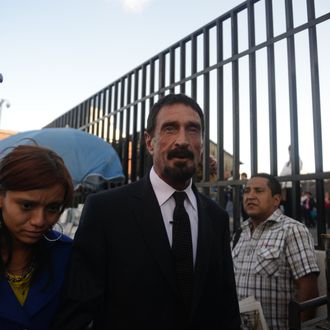 The latest twist in the John McAfee saga could be a doozy: After offering an alibi on video for his whereabouts the night his neighbor was killed, the fallen anti-virus mogul has been arrested by Guatemalan police. Reuters reports that McAfee was detained with the help of Interpol agents at an upscale hotel in Guatemala City. He was then moved to an "old, three-story building used to house migrants who enter Guatemala illegally," according to the Associated Press. "He entered the country illegally and we are going to seek his expulsion for this crime," said Guatemalan Interior Minister Mauricio Lopez Bonilla.
McAfee, who claims he's being persecuted in Belize, said he'd formally requested asylum in Guatemala earlier on Wednesday. Since police in Belize say they only want to question McAfee and haven't issued a warrant for his arrest, it doesn't appear that he needs any special status to stay in Guatemala. Officials have made conflicting statements about what will happen, and McAfee is weighing in too, as he's found a way to keep blogging from jail.

A spokesman for the Guatemalan government said McAfee would be turned over to Belize, probably by Thursday morning. However, an official from Guatemala's immigration department said immediate deportation was off the table. In a post on WhoIsMcAfee.com, the software mogul says he won't be returned to Belize until a higher judge has a chance to review the case. McAfee also reports that he's been in touch with the American embassy and asked to return to the States, but they say there's nothing they can do. He adds, "P.S. Anybody have friends in the State Department?"
Following McAfee's lead, the Guatemalan police tweeted a photo of him in custody: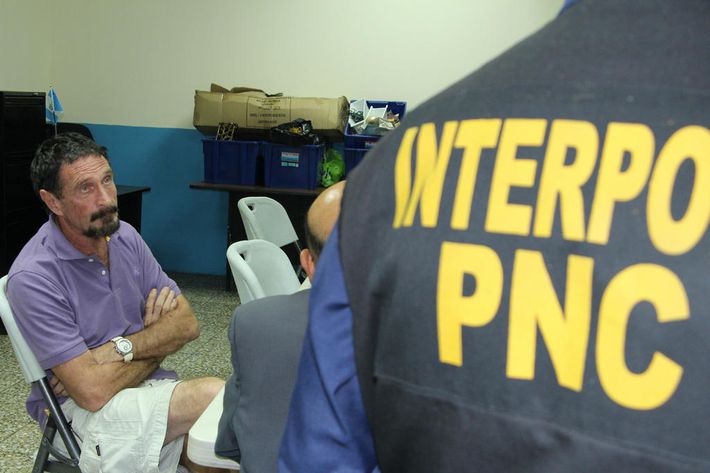 According to his jailhouse missives, McAfee is being well cared for. "I am in jail in Guatemala," he writes. "Vastly superior to Belize jails. I asked for a computer and one magically appeared. The coffee is also excellent." Just something to keep in mind if you ever need to seek asylum in a Central American country.
Here's the video of McAfee's alibi:
This post has been updated throughout.