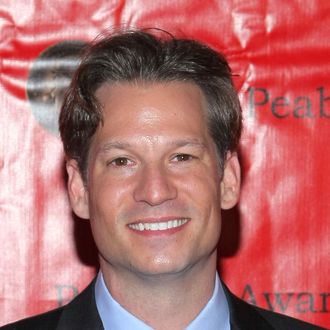 Photo: Michael Loccisano/Getty Images
Richard Engel, the chief foreign correspondent for NBC, was released unharmed on Monday along with members of his news crew five days after they were captured in Syria, the network announced this morning. "It is good to be here," said Engel on the Today show, wearing the same clothes he was kidnapped in, with bandages still in his pocket. "I'm very happy that we're able to do this live shot this morning."
Engel explained that he was embedded with Syrian rebels when unidentified gunmen ambushed them, executing one rebel "on the spot" and taking the rest as prisoners. "We weren't physically beaten or tortured. It was a lot of psychological torture, threats of being killed," Engel said. "They made us choose which one of us would be shot first, and when we refused, there were mock shootings. They pretended to shoot [NBC producer Ghazi Balkiz] several times."
The crew can be seen sitting huddled on the floor, begging their native countries to cooperate, in the below video. "I'd like to urge the United States government to do what it can to secure our release and to cease its activities in Syria," says Engel, presumably under duress.
The group was freed after a fight at a Syrian rebel checkpoint, in which two of their captors were killed and the rest escaped. Engel and his crew eventually passed safely into Turkey.
"The network said there was no claim of responsibility, no contact with the captors and no request for ransom during the time the crew was missing," NBC reports, but the network did attempt to keep the news of Engel's kidnapping as quiet as possible. While Turkish news reports turned into tweets and U.S. blog posts at sites like Gawker and Business Insider yesterday, NBC urged outlets to cooperate with a news blackout, a common occurrence when reporters go missing in hopes of not putting those at risk in any further danger.
In a statement, NBC "expressed its gratitude to those who worked to gather information and secure the release of our colleagues." On Today, Engel added, "While we're obviously very happy, there are many people who are still not at liberty to do this kind of thing. There are still hostages; there are still people who don't have their freedom inside Syria. We wish them well."