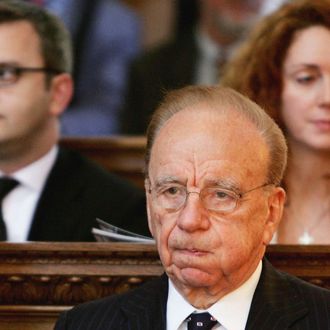 Photo: Graeme Robertson/2005 Getty Images
James Harding, the editor at Rupert Murdoch's Times of London, announced his forced resignation today after five years atop the paper, telling the newsroom, "It has been made clear to me that News Corporation would like to appoint a new editor of the Times. I have, therefore, agreed to stand down." Although he called the job a "constant privilege" at the "greatest name in newspapers in the world" and praised News International as "vigorous champions of The Times at extremely difficult times for the business," speculation is already rampant that Harding was pushed out for his coverage of the company's own phone-hacking scandal.
Last week, amid big changes at News Corp., the Telegraph hinted at Harding's departure and reported, "Sources claim that Mr. Murdoch was displeased by the way the Times newspaper covered the recent arrests of former News International executives, particularly in recent weeks."
"When Harding finally found his voice over hacking Times was v critical of News International management. Wapping sources: Murdoch hated that," tweeted BBC correspondent Andrew Neil today. Murdoch biographer and media critic Michael Wolff added, "Times coverage of hacking has been sharpest of all Murdoch outlets. Reward for that is James Harding getting fired. Naturally."
Meanwhile, the payout gifted to former News International CEO Rebekah Brooks, who resigned in the hacking mess and was later charged with bribery and perverting justice, has been revised upward for the third time, Bloomberg reports, from £1.7 million to £7 million to £10.9 million, or $17.6 million.