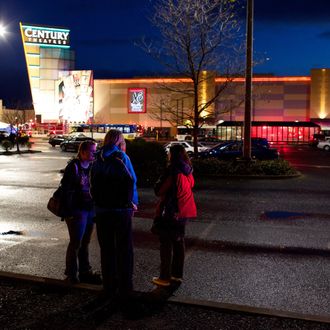 People stand in front of Clackamas Town Center mall following the shooting.
Photo: Craig Mitchelldyer/Getty Images
A man opened fire in an Oregon mall this afternoon, killing two people and wounding another before killing himself. Chaos broke out in the Clackamas Town Center mall in the Portland suburb of Happy Valley when a man wearing a body armor, camouflage, and a hockey mask started firing a semi-automatic rifle around 3:30 p.m. as he walked from Macy's to the food court and through the hallways. "All of a sudden I heard something similar to a .22 popping, probably eight times, and people dropping everywhere, people screaming," said witness Christina Fisher. The mall's Santa said he "hit the floor" after hearing more than a dozen shots, and other panicked shoppers ran from the building or hid in stores' back rooms. The gunman was found dead and police didn't fire during the incident. "I can confirm that we believe at this point that there was one and only one shooter involved and that that shooter is deceased," said Clackamas County Sheriff's spokesman Lieutenant James Rhodes.
Witnesses described the man as short with dark hair, and say he was wearing body armor. A Macy's employee says he announced "I am the shooter" before opening fire, and 20-year-old Shaun Wik, who was eating in the food court, tells the Associated Press that he thinks he heard the man shout "Get down!" Wik and his girlfriend ran instead, and heard seven or eight more shots. "If I had looked back, I might not be standing here," Wik said. "I might have been one of the ones who got hit." Antonio Charro, who was shopping in the mall with his daughters, tells CNN that he saw a wounded woman lying on the ground by a cell phone store. "She had apparently been shot in the chest, and I couldn't get her turned over to help her," he says. "There was no one around. She wasn't breathing."
When police arrived on the scene they put the mall on lockdown and went from store to store to look for accomplices and escort hiding shoppers out of the mall. "All of us had to have our hands raised, because they didn't know who the shooter was yet," said Larisa Terekhova.
Police say they've "tentatively" identified the gunman, but they haven't released his name or that of his victims. The woman who was wounded was taken to the hospital by helicopter and is in serious condition. Her friend says she was shot in the side and is expected to live.