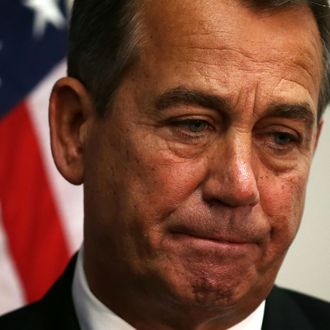 Photo: Alex Wong/Getty Images
Despite insisting in a press conference yesterday that he's not going anywhere, John Boehner's position as Speaker of the House looks much more precarious in the wake of his Thursday night "Plan B" failure. "They weren't taking that out on me," Boehner said of the House Republicans who revolted against his proposal. "They were dealing with the perception that someone might accuse them of raising taxes." A source close to Boehner tells The Hill he's so confident he'll be re-elected Speaker on January 3 that he hasn't made a single phone call to shore up support. However, conservative clearinghouse Breitbart News claims there is a semi-secret plot to get rid of him. Meanwhile, other conservative pundits have launch an all-out "Fire Boehner," complete with a hashtag.
"@SpeakerBoehner needs to resign. GOP needs new negotiator and a new plan. He has no support among the American people. #fireBoehner," tweeted American Majority Action spokesman Ron Meyer Jr. RedState's Ned Ryan wrote, "Speaker Boehner's leadership has been discredited, and now he'll procrastinate on preventing the fiscal cliff until he can re-secure power. Our country's economy and the Conservative Movement deserve better than to be held hostage by Speaker Boehner's last cling to power. Time for a change, and time for a change right now." Yesterday, radio host Laura Ingraham told Fox News's O'Reilly Factor that, "I had a well-placed conservative voice today on the Hill e-mail me and said he's beginning to hear rumblings of a move to replace the Speaker of the House … and people are floating the name of Paul Ryan to be House Speaker," while Republican strategist Dee Dee Benkie floated House Majority Whip Kevin McCarthy and Washington Representative Cathy McMorris Rodgers as possible options. Meanwhile, his favorability ratings have reached a new low, according a poll released by Rasmussen Reports. With 51 percent of voters viewing him unfavorably, he's now the least popular member of Congress (a distinction that used to belong to Nancy Pelosi.)
Still, those with an actual say in the matter maintain that there is no plan to get rid of him — at least for now. As Buzzfeed's John Stanton points out, congressional leadership coups rarely work. While Boehner has been weakened, his personal relationships within his conference remain strong. Pundit speculation aside, his friendships with most of his viable replacements offer a lot of protection. And any Republicans who tried to unseat him would be taking a huge and probably unattractive risk "because if rebels don't win, the repercussions will likely be long lasting and severe."
"This was not a vote of no confidence in the Speaker. This was a legislative defeat, not a personal defeat," said South Carolina Representative Mick Mulvaney, who opposed "Plan B." Louisiana Representative John Fleming, one of Boehner's more "vocal critics," said, "He is my Speaker, and I support him." And Ohio Representative Steve LaTourette summed up the situation nicely: "It's like saying the superintendent of an insane asylum should be discharged because he couldn't control the crazy people. That's nuts." 
So how is the often sensitive Boehner handling all this? "He was disappointed, but he is pretty resilient. He's going to enjoy the holidays, and we'll see where things go," said his buddy Georgia Representative Saxby Chambliss. Of course, it's hard to enjoy winter break when you know you're going to have to drag yourself back to the asylum before New Year's Eve.