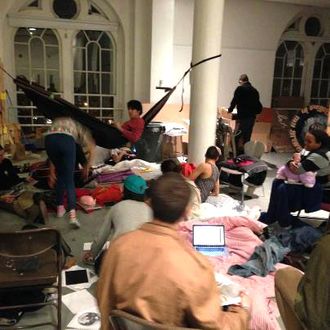 Sleepover!
Photo: FreeCooperUnion/Twitter
Eleven Cooper Union students and one journalist have barricaded themselves inside of the school's Foundation Building to protest a plan that could charge students tuition for the first time in more than a century.* The East Village college agreed this year to start taking money from graduate students, while current undergrads have been guaranteed a free ride through 2017. From there, financial concerns have made the future uncertain in what the occupiers see as a symbolic blow to the institution's founding principles. Their demands include the abandonment of any "tuition-based educational programs," transparency from the Board of Trustees, and the resignation of president Jamshed Bharucha. In other words, they could be up there for a while.
"We will continue holding this space until our demands are met or we are otherwise removed: we will not negotiate," the group announced today. "To this point we have publicly presented our terms and principles and reached out to the broader community and press, but we have yet to be contacted in any capacity by the president. Faced with ideological opposition to the expansionist model, Jamshed Bharucha has withdrawn from public view and shirked his responsibilities overseeing the college."
The administration reportedly had an emergency meeting yesterday at the president's house and told the New School Free Press they were "still assessing the situation." One attempt by the school to push into the occupation was abandoned after twenty minutes, WPIX reports.
The students, meanwhile, have set up camp with laptops and a hammock and were tweeting the night away, but they already exposed a weakness: "We're here. We're staying. We forgot coffee."
*This post has been updated to reflect that only eleven of the students inside attend Cooper Union; the twelfth is a reporter for the New School Free Press.