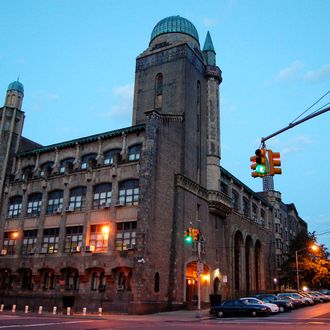 A new investigation by the Jewish Daily Forward unearths upsetting sexual abuse allegations by former students at the Yeshiva University High School for Boys in Manhattan at the hands of two faculty members decades ago, as well as a disturbing lack of action on the part of the school. According to men who attended the 116-year-old institution in the late seventies and early eighties, former teacher Rabbi Macy Gordon and and former principal Rabbi George Finkelstein repeatedly engaged in inappropriate conduct with young boys, including wrestling with sexual undertones and, in one case, alleged sodomy with a toothbrush.
Current president Richard Joel told the Forward in a statement that the school is "looking with concern into the questions" raised by the article, but the school's leadership at the time of the alleged abuses had a far more accepting attitude of the charges. Norman Lamm, president of the school from 1976 to 2003 and now its chancellor, said although he knew about the allegations, police were never notified. "My question was not whether to report to police but to ask the person to leave the job," he said. "This was before things of this sort had attained a certain notoriety. There was a great deal of confusion."
The charges, and their bungled handling in the days before Penn State and abuse by the Catholic Church, mirror those that surfaced earlier this year at New York City's hallowed Horace Mann school.
"I don't really remember exactly how it happened, but he [Gordon] wound up looking to see where I was developing physically," one of the alleged victims recalled, claiming he was then violated sexually. Gordan told the Forward he had heard "various forms of [the sodomy accusation] before" but had "no recollection of such a thing."
Three men also told the Forward that Finkelstein crossed the line with them, often inviting them to wrestle in private. "You could tell what was going on in his pants," one said. "It wasn't just a wrestling match." The educator defended himself, admitting to the play-fighting but insisting, "There was never any sexual anything that was involved," and adding, "That's what the boys did with each other."
"When the institution is more important than the people, then what's the point of the institution anyway?" said one victim recently, according to the in-depth investigation. "It's too late for justice, but it would be interesting to see some of this come to light."
Update: In a new statement, Yeshiva University president Richard Joel said, "The inappropriate behavior and abuse alleged by The Forward to have taken place in the past, and described in statements attributed by The Forward to Dr. Lamm, are reprehensible."