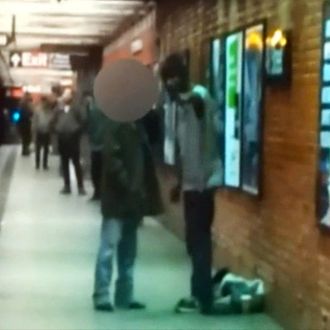 Police are questioning the man they believe fatally pushed 58-year-old Ki Suk Han onto the subway tracks yesterday afternoon in front of multiple witnesses. Han was seen arguing with someone on the 49th Street Q train platform when bystanders said the suspect "just grabbed [Han] and launched him — just threw him — straight onto the tracks." According the NYPD spokesman Paul Browne, investigators "saw his image at various locations and found people who knew him," but will not "identify him until a lineup is done."
The horrifying scene made the cover of the New York Post this morning, leading to questions about why no one attempted to help Han get back up onto the platform. DNAinfo reports this afternoon that Han spent up to 90 seconds on the tracks before being struck by the train. "People were just standing in shock," according to one witness.
"I think it's not unlike a car accident where people pay attention to it after it happens," said NYPD commissioner Ray Kelly. "The witnesses we spoke to were not focused on what happened before the confrontation. There's some indication they were engaged in a conversation."
Update: Police sources tell the Post that the suspect, a 29-year-old street vendor from Queens, has confessed to the crime, though he has yet to be charged.