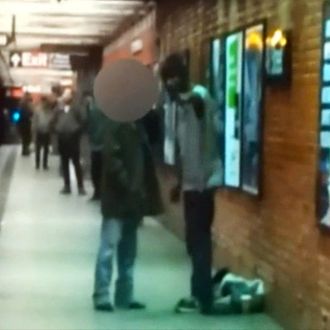 The man suspected of fatally pushing 58-year-old Ki Suk Han onto the subway tracks on Monday has "made statements implicating himself in the incident," according to NYPD spokesman Paul Browne. Several news outlets have identified him as 30-year-old Naeem Davis, a homeless man who's paid to run errands for street vendors around Times Square. A source tells the New York Post that while cops were searching for Davis on Monday night, he stashed the clothes he was wearing and slept in a van. On Tuesday he undermined his efforts to give the police the slip by returning to the area, but he did try to disguise himself by shaving off his dreadlocks.
Update: Davis has been charged with second-degree murder.
"I showed him the picture [released by police] and he goes, 'Oh, that's not me,'" Elizabeth Williston, a local newsstand vendor, told NBC New York. "I said, 'Yeah, that's you!' Because yesterday, he had the beard, the hair. But today, he had shaved his head, shaved his mustache and everything." Davis was arrested moments later, just a block from the 49th Street and Seventh Avenue station where Han was killed.
Police sources tell the Post that Davis "bumped into [each other] and started arguing before getting to the turnstiles." Han had reportedly left his Queens home drunk and angry after getting into a fight with his wife, but witnesses say he was telling the other man to calm down because he was scaring people. Davis said he "stayed and watched" as the train hit Han and showed no remorse, according to police sources. "He said he heard his torso snap and he knew he was dead," the sources added.
"I saw the guy, and I did what I was trained to do," the train's motorman told the Daily News. "You're hopeful you're going to stop, but you don't have control of the train at that point." He said he left the subway to help Han, but it was too late. "I wouldn't want anyone to go through it."
Like the rest of the world, Han's family is said to be "shocked" and "upset" by the Post's cover featuring a photo of Han moments before his death. "They can't believe that their father's picture is out there, about to get hit by a train," said Charen Kim, a lawyer representing Han's widow.
R. Umar Abbasi, the Post freelance photographer who took the disturbing shot, still insists that he was trying to warn the subway driver with his flashes and didn't have time to save Han. He's also trying to distance himself from the controversial cover, saying that he left his camera's memory card with editors at the Post after showing the photos to police officers, and wasn't part of the decision to publish the picture. "Every time I close my eyes, I see the image of death," he said. "I don't care about a photograph."
For the second straight day, Abbasi made the cover of the Post, but this time he's the story. In a firsthand account, he wrote, "I have to say I was surprised at the anger over the pictures, of the people who are saying: Why didn't he put the camera down and pull him out? But I can't let the armchair critics bother me. They were not there. They have no idea how very quickly it happened."
He goes so far as to put the blame on others: "The sad part is, there were people who were close to the victim, who watched and didn't do anything. You can see it in the pictures," Abassi said. "The truth is I could not reach that man; if I could have, I would have."
This post has been updated throughout.