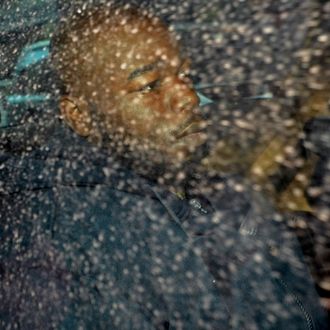 Suspect Naeem Davis is driven from the Midtown North police precinct, Wednesday, Dec. 5, 2012, in New York. Davis, 30, was taken into custody for questioning Tuesday after security video showed a man fitting the suspect's description working with street vendors near Rockefeller Center. Police said Davis made statements implicating himself in Ki-Suck Han's death. Davis was arrested on a second-degree murder charge. Witnesses told investigators they saw a man talking to himself Monday afternoon before he approached the 58-year-old Han of Queens at the Times Square station, got into an altercation with him and pushed him into the train's path.
Photo: Louis Lanzano/AP/Corbis
Subway pusher Naeem Davis tells the Post in a jailhouse interview that he never meant to kill Ki Suk Han earlier this week, and blames the voices in his head (he says he's bipolar), Han's own aggression (he allegedly grabbed Davis's arm and threatened to kill him), and marijuana for what happened. "I was under the influence [of marijuana]," he says. "It wasn't my intention to kill him. I just wanted him to get away from me." Like a Partnership for a Drug-Free America commercial come to life.