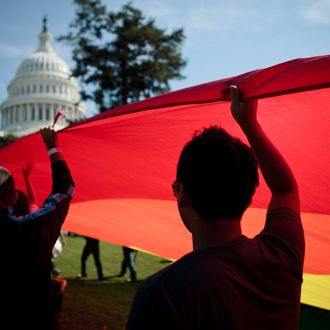 Photo: Brendan Smialowski/2009 Getty Images
The Supreme Court decided today to take on the constitutionality of both California's Proposition 8 marriage amendment and the Defense of Marriage Act, SCOTUSblog reports, setting the stage for a historic ruling next year. According to the New York Times, "The California case has the potential to establish a right to same-sex marriage, effectively striking down the bans on such marriages in 39 states. The Defense of Marriage Act case, no matter the result, would be more likely to let those laws stand." The court chose from ten potential marriage equality cases.
Section 3 of DOMA defines marriage as between a man and a woman, as applied to more than 1,000 federal laws and, in this case (United States v. Windsor, No. 12-307), was challenged by Edith Windsor, who was forced to pay an estate tax following the death of her wife. Two federal appeals courts have ruled the act unconstitutional this year, while the Ninth Circuit Court of Appeals ruled against Prop 8 in a case — Hollingsworth v. Perry, No. 12-144 — brought by the American Foundation for Equal Rights. The Times plays out some scenarios:
The Supreme Court has several options in reviewing the decision. It could reverse it, leaving California's ban on same-sex marriage in place unless voters there choose to revisit the question. It could affirm on the narrower theory, which would allow same-sex marriage in California but not require it elsewhere. Or it could address the broader question of whether the Constitution requires states to allow such marriages.
As noted by Buzzfeed's Chris Geidner, "In addition to the questions about whether the laws are constitutional, the court has asked the parties to respond to questions about 'standing,' a constitutional limit on who can bring a case before the court because of a constitutional limit that courts only can hear actual 'cases and controversies.' If a party doesn't have standing to bring an appeal, the court cannot hear an appeal." The Justice Department is usually charged with defending acts of Congress in court, but last year, the Obama administration announced it had deemed DOMA unconstitutional, leaving House Republicans to defend it. "The Supreme Court has asked whether they have standing to do so," Geidner reports.
"There is a good deal of complexity in the marriage orders, but the bottom line is this: the Court has offered to rule on Prop. 8 and on DOMA Section 3, but it also has given itself a way not to decide either case," explained SCUTOUSblog's veteran court-watcher Lyle Denniston. "That probably depends upon how eager the Justices are to get to the merits; if they are having trouble getting to 5 on the merits, they may just opt out through one of the procedural devices they have offered up as potentials." Denniston added, "If anyone were to be recused from Prop. 8 or DOMA, it would have been noted. There is no recusal in either."

Arguments are likely to occur near the end of March 2013, with a decision due around June 27.
This post has been updated throughout.