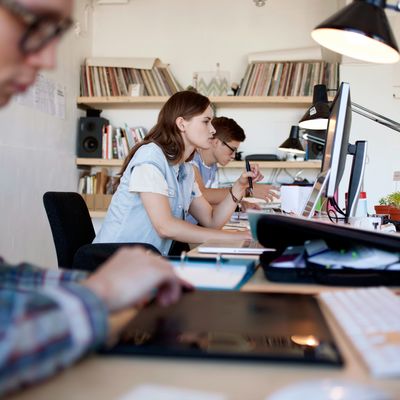 One of my favorite things about watching the evolution of Silicon Valley into a full-fledged business hub is seeing the wealthy people in Palo Alto and Menlo Park realize that they are, in fact, wealthy, and therefore have many interests in common with millionaires and billionaires in the rest of the country.
This is not easy for them. Silicon Valley has always positioned itself as the cool, progressive alternative to Wall Street, and the idea that hoodie-wearing millionaires in the Bay Area share an ideological agenda with pinstripe-wearing financiers in Manhattan, simply by virtue of the size of their bank accounts, is often scoffed at and rejected out of hand.
Luckily, a few brave Silicon Valley entrepreneurs are coming out of the millionaire closet and joining their East Coast brethren in making self-serving arguments for lower taxes.
Today's Silicon Valley iconoclast is Ethan Anderson, a 36-year-old former Google employee and founder of a tech company called Redbeacon.
Anderson has a column in AllThingsD today lambasting the state of California for passing a tax increase on people making over $250,000 a year during last month's election. He claims that the tax hike, contained in a ballot measure known as Prop 30 that was intended to generate funding for California's schools, "creates a feeling of fear, resentment and uncertainty" and makes California "the worst possible environment for investment to take place."
If any of that sounds familiar, it's because it's the same kind of veiled threat — "If you raise our taxes, we'll move!" — that Wall Street millionaires and billionaires have been making for years. Anderson even takes a page out of the Randian playbook and claims that entrepreneurs represent "the wealthy and productive classes we need to stay and rebuild the Golden State to its former glory."
Anderson does have one argument that deviates from the standard anti-tax mantras of the one percent. It's that Prop 30 was designed to be retroactive to the beginning of 2012, and therefore will mean an additional tax hit to anyone who happened to make a killing during "a single once-in-a-lifetime event" earlier this year, before the bill passed. He explains the retroactivity of Prop 30 as an intentional move to punish Facebook employees, many of whom got rich overnight when they cashed out their shares in the company's May IPO:
Thousands of workers toiled long hours and worked for low pay (at least in the beginning) to build one of Silicon Valley's generational companies. When their deferred reward hit eight years later in the form of a $90 billion IPO, it proved an attractive tax target for California's politicians. The only problem was that the IPO occurred before the tax hike, hence the need for the retroactivity in Prop 30.
Hmmm, I wonder who else Anderson might have had in mind with this particular point? Is anyone else in Silicon Valley going to pay higher taxes because they made millions of dollars in a single once-in-a-lifetime event earlier this year?
Oh, right. Ethan Anderson.