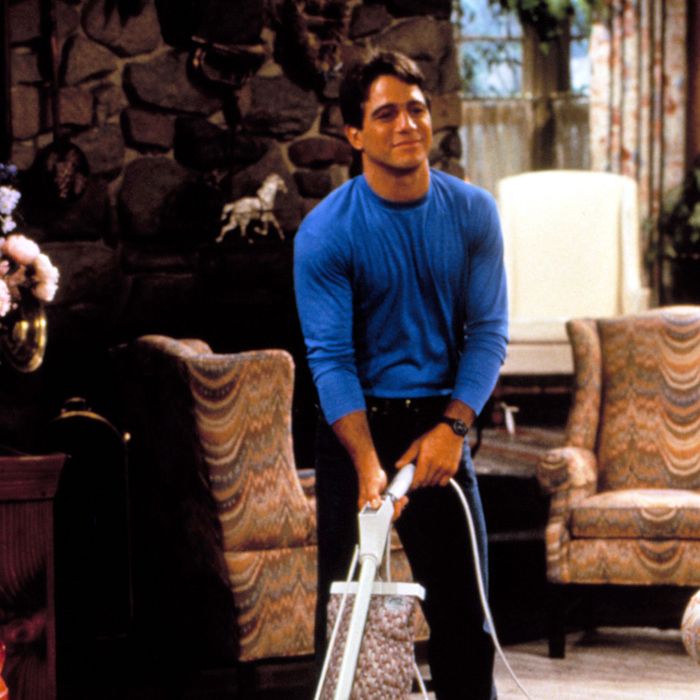 Really vaccuuming.
Photo: Everett Collection
Ecoconsciousness was on the brain last night at the Upper West Side's Loi restaurant following the New York premiere of Promised Land, Gus Van Sant's latest drama about the impact of natural-gas fracking on a small Pennsylvania town, written by Matt Damon and John Krasinski.
But when we ran into Tony Danza, the actor admitted that he was guilty of at least one nongreen habit. "I like to clean my own apartment, and sometimes I use paper towels willy-nilly," the Upper West Sider confessed to Daily Intel.
The paper towel thing is understandable, but wait a second — he likes cleaning his apartment? That's not something the accomplished actor and newly minted New York Times best-selling author would rather outsource?
"First of all, I think it is sort of therapeutic," Danza explained. "Secondly, I think it gives you a feeling of accomplishment, and you've got to clean your apartment." Plus, "I don't want anyone in my apartment," he added. "It's my space. I've got a little place, so I can do it in, like, a couple hours if I really work hard. Today I worked hard."
"You should see it; it's spotless," he bragged, beaming proudly.
Danza, in case it isn't yet clear, takes his cleaning very seriously. "It's ironic because on my big show, I was a housekeeper. And when I vacuumed, I vacuumed," the star told us, explaining his Method acting. "See, my mother made me clean from the time I was very small child. She was a nut. And she would say to me, 'Don't surface clean!' and she made me clean. And so, in fact, when I was on Who's the Boss?, people would say to me as I cleaned, 'What a great actor you are!' And I said, 'No, my mother taught me to do this.'"