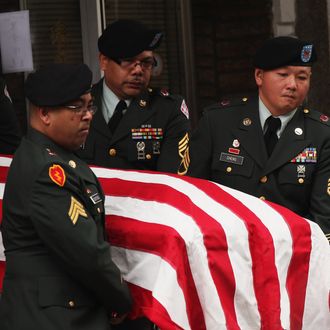 Photo: Spencer Platt/2011 Getty Images
First Lt. Daniel Schwartz, the last of the soldiers implicated in the death of Chinese-American Army Pvt. Danny Chen will avoid a trial in favor of a discharge from the service, the Army announced on Monday, wrapping up a case that raised serious questions about racism and hazing in the military. Chen, a 19-year-old from the Lower East Side, apparently shot himself while on Guard duty in Afghanistan in October, 2011, after relentless (and often racist) bullying from his superiors.
Schwartz, the soldiers' platoon leader, was the only officer charged in Chen's death. Of the seven sergeants, staff sergeants, and specialists charged along with him, five have been sentenced to prison and all seven received demotions in rank. Most pleaded or were found guilty of hazing, dereliction of duty, or both. None were convicted of the most serious charge: negligent homicide. On Monday, the Army announced that Schwartz had struck a  deal with prosecutors, which Chen's parents approved, that would allow him to leave the service instead of facing trial. What kind of discharge he'll get has yet to be determined.
Obviously, the resolution doesn't sit well with those advocating for Chen and his family. "These light sentences do not give justice to the life of Pvt. Danny Chen," said Elizabeth R. OuYang, president of OCA, according to the New York Times. "Now that these court martials have concluded, Congress needs to pass pending legislation to ensure American soldiers will be protected from hazing in the military," she told the Associated Press. At least Chen's family can finally take a break from sitting through the courts-martial of his tormenters.