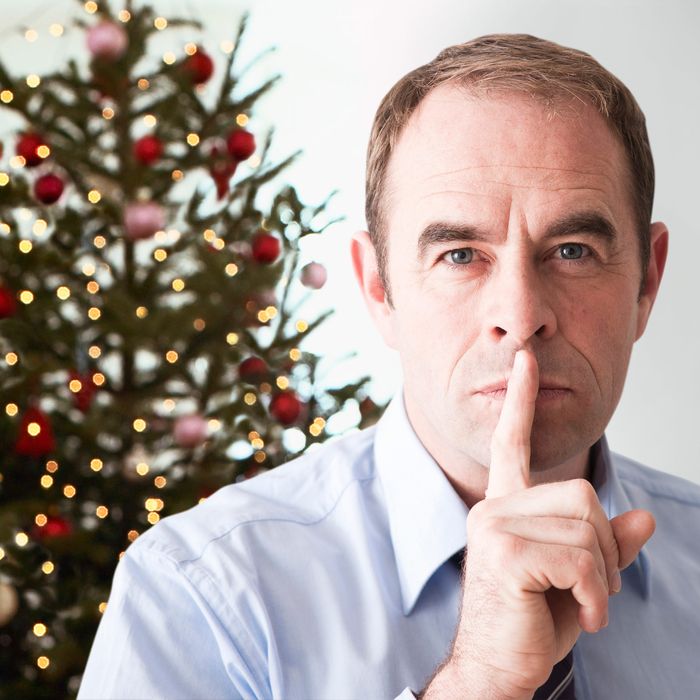 Photo: ? Uwe Umst?tter / Radius Images
It's that time of year again — the early-mid-December period when I call Wall Street banks and ask them, "So, are you guys having a holiday party this year?" and then they say, "Nope!" and then mumble something about static on the line and hang up.
Wall Street banks used to have amazing holiday parties, with Harry Connick Jr. and Bette Midler and escorts on the company dime. They decided after receiving billions of dollars in government bailout funds that they probably shouldn't be doing that. So, they all canceled their holiday parties, and sadly, now nobody in finance can undergo the time-tested ritual of drinking way too much Grey Goose and hooking up with the hot first-year analyst.
Except they still can.
See, most banks just canceled their firm-wide parties and instead authorized individual groups to hold their own unofficial bashes, often paid for out of pocket by managers. This allowed them to avoid Main Street's wrath while still giving employees the chance to ring in the season.
Now, obviously, they're not keen on talking about these unofficial parties (spokespeople for many banks declined to comment), but that's where you come in. Here, via our tipsters, is a partial list of events on this year's underground holiday party circuit:
Goldman Sachs: No firm-wide party, but group parties are kosher. (At least one group paid its own way to Bowlmor Lanes, a tipster says.)
Morgan Stanley: No firm-wide party, but a group of young analysts held a winter-themed party ("lots of shot-skis") at a downtown bar earlier this week.
BNY Mellon: "Had its party at the Hard Rock this past Monday," a tipster writes.
JPMorgan Chase: No firm-wide party, but "smaller group parties" paid for by managers are allowed.
Credit Suisse: No firm-wide party, but the asset management division held a bash at the Bowery Hotel. ("Pretty boring," a tipster says.)
Bank of America: "Obviously there is no firmwide party."
Citigroup: No firm-wide party ("even if we were allowed, nobody's in the mood," a tipster says), but some managers have been taking their groups out to nearby bars.
The parties get a little better when you venture outside the banks and into private equity and hedge funds. For instance:
Blackstone: The giant private equity firm is having a party at the Waldorf-Astoria next week, featuring a charity coat drive and an employee raffle.
BlackRock: The asset manager is having a party in its New York office. ("Nothing fancy.")
Carlyle Group: The D.C.-based firm is having a party "in mid-December for employees. It's an annual event."
Bridgewater Associates: A big group from Ray Dalio's massive hedge fund partied in midtown last night, a tipster says. The firm's official party, as in years past, will be held at the Webster Bank Arena, a 10,000-seat arena in Bridgeport, Connecticut.
PIMCO: The West Coast asset manager held a big bash at the Hyatt Regency in Huntington Beach, California, earlier this week, where this photo (via Instagram user @ellenhch) was taken:
Any other events of note? E-mail me to have it added to the list. Anonymity is assured.