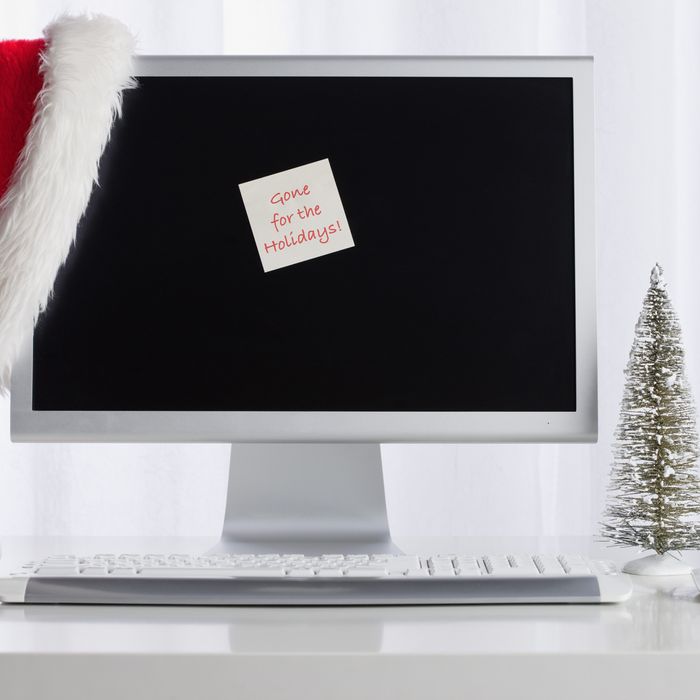 The children were nestled all snug in their beds, while HFT algo-bots checked on the spreads.
Most people even peripherally involved in Wall Street trading are already ensconced in their holiday prep, and the rest will take off at 1 p.m. today, when the stock exchanges close. But don't let that fool you. Money never sleeps, and it sure as hell doesn't drink eggnog and watch A Christmas Story around the fireplace. And there's a lot to trade this week — most notable, the fiscal cliff negotiations, which could swing the Dow hundreds of points in either direction, depending on whether Congressional Republicans can get their acts together.

Which makes it all the more worrisome that traders are deputizing their computerized trading algorithms to take over for them during the holidays.

Today's Wall Street Journal brings us a pre-holiday update on the robot revolution:
Across Wall Street, more than a dozen firms trading everything from currencies to equities and fixed-income products say they plan to rely on computer-based trading programs and on their colleagues in Asia to cover for them. Traders at global investment banks including Morgan Stanley, Deutsche Bank AG and Citigroup Inc. said their U.S. desks would be staffed by only a small contingent next week…
While algorithms run the global economy, the Journal says, Wall Street's humans will be doing fun-sounding holiday things, like "relaxing in a hot tub at a British Columbia ski resort with a glass of Drambuie" and going on ski trips to Park City. Nobody, it seems, is worried about the possibility of a Christmastime algo revolution:

John Lekas, chief executive and portfolio manager at Portland-based bond shop Leader Capital Corp., said he plans to ignore the markets a bit and focus on drinking eggnog.

"I'm cooking pumpkin pies, Christmas caroling, and singing around the fire," he said, adding that he is fully-invested and won't be delaying any vacation.
You're cooking pumpkin pies while the world is burning?!
Ah, screw it. This is Christmas — anything is possible. If Santa can get around the world on a measly $815 million IT budget, the robots can probably figure out a way not to Knight Capital the markets while we're opening our presents.