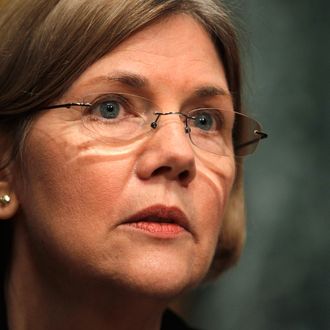 Photo: Alex Wong/2010 Getty Images
It's a sad day on Wall Street: Elizabeth Warren, the financial industry's least-favorite senator-elect, has been assured a seat on the Senate's powerful Banking Committee, according to four sources cited anonymously by the Huffington Post.
Big banks spent millions of dollars and thousands of lobbyist hours trying to avoid this very scenario. But, in the end, Warren's expertise, and her experience setting up the Consumer Financial Protection Bureau, won out. Now, barring a last-minute change in plans, she will join Democrats like Jack Reed, Chuck Schumer, and Sherrod Brown on the body that oversees the Dodd-Frank rule-writing process and other financial industry regulations.
After my piece on Wall Street's worries about Warren ran last week, I got a call from a senior banking industry lobbyist, who contended that Warren herself wasn't planning to come into the Senate and immediately begin pushing an anti-bank agenda. Her more likely tactic, he said, would be to slow-play the situation, quietly amassing power and influence among fellow senators at first and then going after the banks once a coalition had been established.
"She realizes that if she appears to be a caricature of herself, she won't be super-relevant in the Senate," the lobbyist said.
Whether or not that's true, the issue of Senator-elect Warren's relevance has already been established. Now, with a seat on the Banking Committee, all she has to decide is how to use her new power.