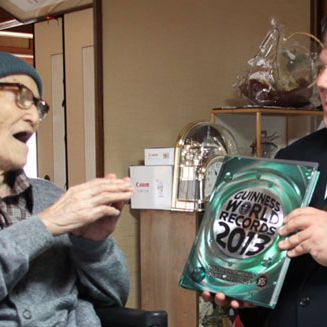 New world's oldest person, Jiroemon Kimura.
Photo: guinnessworldrecords.com
After holding the title for less than two weeks, "World's Oldest Person" Dina Manfredini of Iowa passed away in her sleep this morning, continuing a bizarre and inexplicable string of recent "World's Oldest Person" deaths. The new most senior human on Earth is Japan's Jiroemon Kimura, who will also become the oldest man ever (or, at least since we've been able to track that sort of thing) if he makes it to December 27. So, Jiroemon, what's your secret to longevity? "I don't know, exactly," he said earlier this year. "Maybe it's thanks to the sun above me. I am always looking up towards the sky." Great, thanks a lot.