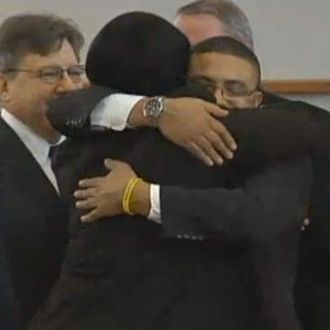 Glisson and Watkins hug after being exonerated.
When Cathy Watkins was released from prison in October, she described the moment as "bittersweet." For seventeen years Watkins and Eric Glisson had insisted that they were innocent, and the Bronx District Attorney's office finally believed them when two incarcerated gang members confessed to the 1995 murder of livery cab driver Baithe Diop — however, the pair still had to wear ankle monitors while prosecutors investigated the case. On Thursday they made their last court appearance in the case when a judge vacated their convictions and had the devices removed. "It's very emotional," said Glisson said. "It's something that I waited for a long time to come." Watkins described the ruling as "emancipation," adding, "I'm free. I'm free from the prison plantation."
The judge also threw out the convictions of Devon Ayers, Michael Cosme, and Carlos Perez, but the three men are still incarcerated. They were also convicted in the murder of Denise Raymond in her Soundview home, which occurred two days before Diop's killing. The D.A.'s office has said the two crimes were connected, and in court today prosecutor Nicole Keary said that despite the gang members' confessions, "significant questions remain unanswered, including numerous inconsistencies, missing details." A hearing is scheduled for January 2 to determine if the three men should be released as well.
Glisson said after leaving court that he's "not holding any grudges or looking back." He'd been taking college courses in prison and is now a full-time student on a scholarship at Mercy College. Watkins said she hasn't made any plans yet. "Society really needs to look and see see that this is not an isolated incident," she added. "This is something that goes on every day in our judicial system."