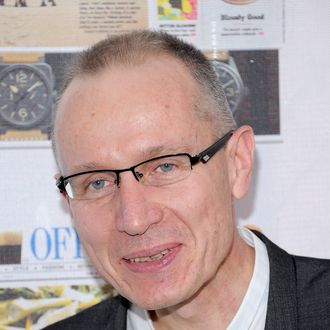 Robert Thomson.
Photo: Jemal Countess/2011 Getty Images
With James Murdoch safely ensconced over at Fox Networks, some News Corp. observers expected Rupert Murdoch to bring his eldest son, Lachlan, in from the Australian cold to run the company's publishing arm, which will soon be separated from the more lucrative and less scandal-prone entertainment and broadcast divisions. However, Reuters has learned that longtime Murdoch confidante and current Wall Street Journal managing editor Robert Thomson will be named CEO of the new business instead.
Thomson, also a native Aussie, served as the publisher of the London Times until 2008, when Murdoch brought him over to the then newly purchased WSJ. Thomson quickly declared war on the New York Times and turned the business daily into the United States' most-read national newspaper, according to the Audit Bureau of Circulations. The WSJ's deputy editor Gerard Baker will take over for Thomson, whose new job responsibilities will include overseeing the financially strained New York Post and News Corp.'s embattled British tabloids, deciding whether or not to buy more struggling newspapers, and figuring out how to sustain HarperCollins in an increasingly less book-friendly world. While we don't envy him, we're looking forward to seeing what he will do.