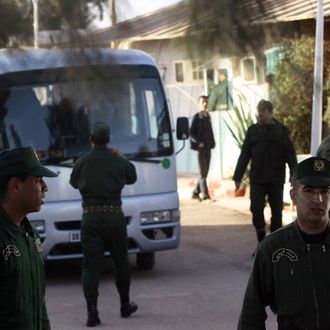 A bus carrying freed hostages.
Standing next to outgoing Pentagon chief Leon Panetta at a press conference Saturday, Britain's Defense Secretary Philip Hammond announced that the four-day hostage crisis in Algeria has "been brought to an end." Earlier this morning, Algerian special forces launched a "final assault" on a remote gas field in the Sahara where some 30-odd Islamist militants had taken hundreds of workers hostage, freeing sixteen hostages but leaving seven innocents and eleven terrorists dead. As of Friday, Algerian state media reported that twelve Algerian and foreign gas field workers had already been killed in the standoff (including Texas resident Frederick Buttaccio, who worked for BP), as well as eighteen hostage-takers. "Basically, it's over," an Algerian official told the New York Times after the raid. Now all that's left is the "cleanup process," which has already proved gruesome after Algerian special forces stumbled across fifteen badly burned bodies.
The ordeal started Wednesday, when members of the Al-Mulathameen Brigade — possibly linked to Al Qaeda in the Islamic Maghreb — attacked the In Amenas gas field using rocket launchers, grenades, and automatic rifles to protest French military intervention in next-door Mali, where the government is battling an Islamist insurgency. The Algerian government's negotiating strategy was more or less straight out of 24 and Air Force One: They do not negotiate with terrorists. Or as one official put it to the Times: "They are being told to surrender, that's it. No negotiations. That is a doctrine with us."
Then, on Thursday, the militants loaded 35 hostages into Jeeps and attempted to flee the area, prompting the Algerian military to swoop in with helicopters, guns blazing. One survivor says the Jeep he was riding in flipped over, allowing him to escape, but others were destroyed. It's unknown how many hostages and militants were killed in that skirmish.
Several foreign governments (namely Britain and Japan) immediately condemned the heavy military response, saying they hadn't been warned and that the Algerian forces were putting their citizens at risk. U.S. Secretary of State Hillary Clinton hasn't openly repudiated the Algerian government's handling of the situation, though she did tell the prime minister that "the utmost care must be taken to preserve innocent life."
As the AP notes, "reports on the number of dead, injured, and freed have been contradictory throughout the crisis" so it may take several days to know exactly how many civilians were killed. But there's a strong chance of more American fatalities, since seven U.S. citizens were among the 30-odd hostages unaccounted for as of this morning's raid, as were 10 Japanese, six Norwegians, and at least ten Britons.
Update: The Algerian interior ministry now says that a total of 23 hostages and 32 militants were killed since the hostage standoff at In Amenas gas field started. In all, 107 foreigners and 685 Algerians were freed.