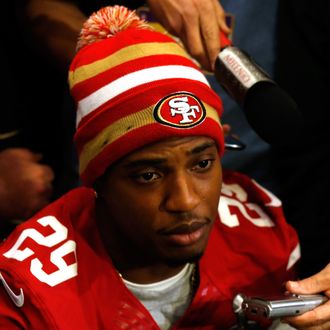 Chris Culliver #29 of the San Francisco 49ers addresses the media during Super Bowl XLVII Media Availability at the New Orleans Marriott on January 31, 2013 in New Orleans, Louisiana. The 49ers will take on the Baltimore Ravens on February 3, 2013 at the Mercedes-Benz Superdom.
Photo: Scott Halleran/Getty Images
"The derogatory comments I made yesterday were a reflection of thoughts in my head, but they are not how I feel." —San Francisco 49er Chris Culliver, apologizing in a statement for his intolerance of hypothetical gay teammates.