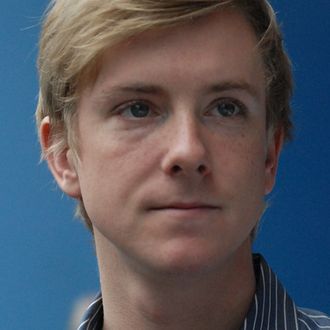 As Chris Hughes attempts to save a dying industry with the revamped New Republic, his main concern is that people absorb the important journalism whether or not they're actually using their eyes to process the words on a page. To that end, he's enlisted the audio start-up SpokenLayer to provide read-aloud versions of each piece published to the 98-year-old magazine's slick (and partially re-paywalled) new website. "A lot of it came from Chris Hughes. They approached us," said SpokenLayer founder and CEO Will Mayo in an interview with Daily Intelligencer. "He wanted audio versions of everything they put out. We think that in a world that's inundated with content, making it as easy and seamless to consume it is paramount and that means where and whenever you want, on and off a screen. He thought that was going to be the future of publishing."
"For a lot of us, news websites haven't changed a lot in the last five or ten years," added New Republic COO Sloan Eddleston. "There were really three components we wanted to tackle: The first is the focus on the written word, that's the most important thing. Number two:  Bring that content to life even more than a book or a magazine. The third is accessibility: we have all these different devices today and people are really busy."
While the technology will eventually be available for every article published on TNR.com, it can be tested now on the marquee interview with President Obama conducted by Hughes and editor Franklin Foer, which in audio form sounds like NPR but slower. Although Mayo couldn't share figures yet, the response on launch day was "overwhelmingly positive," he said. "I had a grin from ear-to-ear watching so many people try the service."
Looking forward, Mayo said TNR will use a combination of voice actors, author readings, and celebrity guests. "Our expertise is in talent-matching — the right voice and the right content," he said, such as a male voice for a male writer.
And it's quick: "We take it into our hands once it's gone live on the site," explained Mayo. "As soon as something hits, there will be a synthesized version and then a voice actor will complete a read of it. We see turnaround times that are unprecedented — whatever the length of the article is, plus a few short minutes. This isn't three hours, eight hours, or 24 hours."
Hughes, meanwhile, read the issue's welcome letter himself. "Chris could do it in the comfort of his own office or home. The great thing is a reader can do a single take and we can take it and do a lot of work with it," said Mayo. "The studio quality becomes less important because the emotion outshines any filter or professional microphone."
Of Hughes's performance, he said, "You can hear his heartfelt experience in there. It's all about the emotion."
This post has been updated with comment from Eddleston.