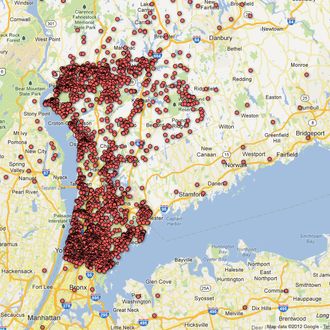 After it published a map of handgun owners in two suburban New York counties, the Journal News may be the nation's most terrifying place to work as threats have been coming in against employees at every level, many of whom had nothing to do with the controversial feature. Threatening notes and harassment have targeted everyone from Gracia C. Martore, the CEO of the Journal News's parent company Gannett, all the way down to the part-timers who write "wedding anniversary and church potluck announcements," staffers told The New York Times. It's the first account of the specific threats coming into the paper, other than the Journal News's own reporting on the two envelopes full of white powder that have been mailed to the office. When the paper hired armed security guards last week, an editor told police it had received "a large amount of negative correspondence." What an understatement that turns out to be.
Per The Times:
Personal information about editors and writers at the paper has been posted online, including their home addresses and information about where their children attended school; some reporters have received notes saying they would be shot on the way to their cars; bloggers have encouraged people to steal credit card information of Journal News employees; and two packages containing white powder have been sent to the newsroom and a third to a reporter's home (all were tested by the police and proved to be harmless).
Reporter Dwight Worley, who conceived the gun map and wrote the accompanying story, has unsurprisingly been getting a large share of the threats, but it's so bad that even the features editor has had to go dark after someone published her home address and phone number.
Mr. Worley said he had received mainly taunting phone calls sprinkled in with callers who said "you should die." He found broken glass outside of his home and would not say how much time he was spending there right now. But he said he had largely been supported by the newsroom.

The Journal News's features editor, Mary Dolan, said that while she was not involved with the publication of the article, her home address and phone numbers were published online in retaliation. She has had to disconnect her phone and has "taken my social media presence and just put it on the shelf for a while." She has also received angry phone calls from former neighbors in Westchester whose gun information was published.
All this controversy has a bright side for the paper's traffic: The gun map coverage has attracted more than a million clicks, more than doubling its previous record, "about a councilman who had two boys arrested for running a cupcake stand."