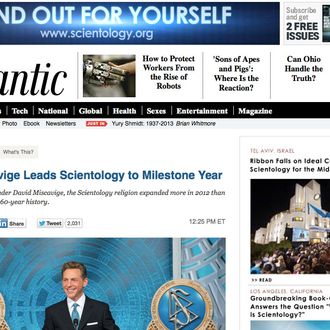 Photo: http://www.theatlantic.com/
In a memo to staff on Friday discussing The Atlantic's Scientology advertorial "screw up," Atlantic Media Company president Scott Havens said "mistakes can happen," and he asked staffers to keep their criticism of said mistakes inside the company, rather than discussing them publicly.  This request, of course, comes a little too late, as Atlantic writers and other staff have been complaining about it, and none too quietly, since the Scientology-praising sponsored post went live on Monday. Nonetheless, Havens would like them to stop.
One important note for everyone: casting blame on any group or any individual is both unfair and simply not what we do at The Atlantic. And we most certainly should not speak to the press or use social media to attack our organization or our colleagues. We are a team that rises and falls together.
The problem that led to the questionable content in the first place was that "we did not have clearly established digital advertising guidelines and policies in place," Havens explained in his memo. They're in the process of drafting those policies now, and will publish them soon, Havens wrote. Cart, meet horse.