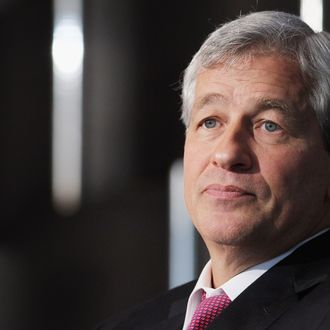 This is his "humbled" face.
Photo: Mario Tama/Getty Images
Goldman Sachs and JPMorgan Chase both announced that their massive piles of gold ingots grew today — Goldman's by $2.89 billion in the fourth quarter of 2012, and JPMorgan Chase's by $5.69 billion. That represents a 190 percent gain over last year for Goldman, and a 53 percent gain for the House of Dimon.
If you're curious about bank financials or need a sleep aid tonight, here is Goldman's Q4 statement (PDF), and here is JPMorgan's full release (PDF).
And if you need to swallow your earnings data with some canned quotes from executives, here is Lloyd Blankfein:
"While economic conditions remained challenging for much of last year, the strengths of our business model and client franchise, coupled with our focus on disciplined management, delivered solid performance for our shareholders."
And here is Jamie Dimon:
"The Firm's results reflected strong underlying performance across virtually all our businesses for the fourth quarter and the full year, with strong lending and deposit growth."
The only interesting thing to come out of today's earnings mess is JPMorgan's internal report about the London Whale's losses, which includes the fact that Jamie Dimon's 2012 pay was cut by half as a result of the debacle, from $23 million to "only" $11.5 million. Thankfully, Dimon has a couple hundred million dollars in other JPMorgan stock holdings to tide him over until next year.