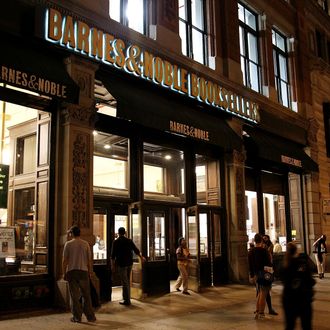 Photo: Steve Mack/Getty Images
The incredible compression and consolidation of the book business is continuing apace, with Barnes & Noble CEO Mitchell Klipper telling The Wall Street Journal that the bookseller plans to close up to a third of its 689 stores over the next decade.
"In 10 years we'll have 450 to 500 stores," Klipper said, noting that by closing money-losing stores, the company's overall financials would improve. Klipper also said, "We're going to be around a long time," which falls under the category of "if you have to say it, it's not a good sign."
Barnes & Noble has been grasping at straws for years, trying to figure out how to reconcile the inevitable shrinkage of the book industry with the fact that many of its stores remain modestly profitable. It closed the unprofitable B. Dalton chain, which it owned, and shut down some Barnes & Noble retail stores — including one at Lincoln Center — and fended off a hostile takeover attempt from magnate Ron Burkle.
Many insiders are placing hopes on the Nook e-book business (which it considered spinning off into a separate company last year) to save it, but that could take years — as it stands, the company spends $1.50 for every online dollar it makes. Even the massive sales of the Fifty Shades of Grey series — which boosted Barnes & Noble's 2012 financials considerably — haven't helped with the overall profit picture.

Until it figures out how to become profitable in a post-Fifty Shades world, Barnes & Noble can at least take solace in the fact that it's not Borders, whose old New York City outpost at 2 Penn Plaza is now a One Direction pop-up store.
Update: A Barnes & Noble spokeswoman sends along this statement: "Barnes & Noble has not adjusted its store closing plan whatsoever. The Wall Street Journal article today implies that our rate of store closures has changed. We have historically closed approximately 15 stores per year for the last 10 years. Of that number some of the stores are unprofitable while others are relocations to better properties. The numbers reported today by the Wall Street Journal are consistent with analysts' expectations."