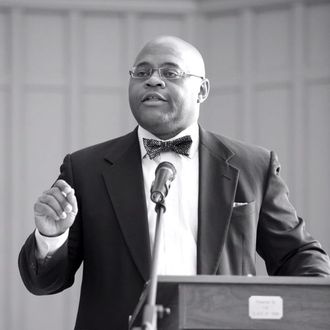 House Financial Services ranking member U.S. Rep. Barney Frank (D-MA) listens to testimony from Federal Reserve Bank Board Chairman Ben Bernanke on Capitol Hill February 29, 2012 in Washington, DC. Bernanke was testifying about the Fed's Semiannual Monetary Policy Report.
Photo: @mocowan/Twitter
Despite heavy lobbying from Barney Frank, Massachusetts governor Deval Patrick has decided to appoint Mo Cowan, Patrick's former chief of staff, to serve as John Kerry's successor in the Senate until a more permanent replacement is chosen in a June 25 election. Cowan will — for a few months, anyway — have the distinction of being one of just two black senators in the country, along with South Carolina Republican Tim Scott, who was also recently appointed to his seat. Amazingly, this will be the first time in American history that the Senate will contain more than one black senator.