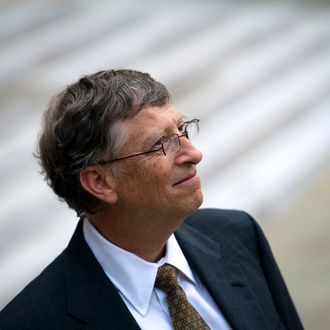 The smirk of wealth.
Photo: LIONEL BONAVENTURE/AFP/Getty Images
Last year Bill Gates gave away $28 billion. But even after all the charitable donations, he came away $7 billion richer than he started, ending the year with a net worth of $63.4 billion. This makes him the second richest person in the world, when he had been the third richest, according to Bloomberg's Billionaires Index. Business Insider explained: "He's been earning money faster than he can give it away."
Gates is not alone. He joins Amazon CEO Jeff Bezos, the Koch brothers, LVMH head Bernard Arnault, Prince Alwaleed, and Carlos Slim among the ten billionaires who made even more money in 2013.
For Gates, there was a 2 percent rise in Microsoft stock, which its founder has been slowly selling off in chunks. The family moved up in rank with stakes in Deere & Co, Republic Services, Coca-Cola, and Auto Nation, owned through a company called Cascade Investment.
Bill and Melinda are determined to try again for 2013, though. Business Insider reports that their foundation "is working with a $36.2 billion endowment, most of it from Gates."