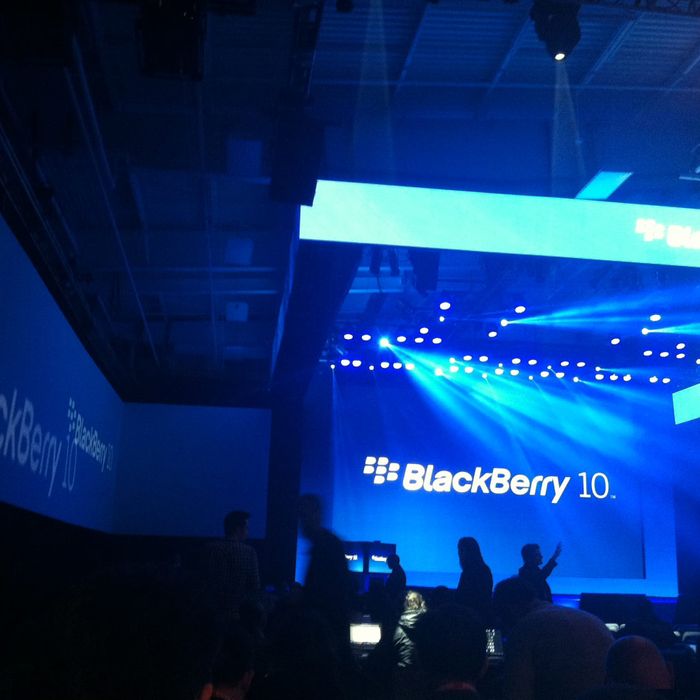 The gaggle of reporters and cameramen eating bagels and mini-omelettes at the official BlackBerry 10 event this morning did not look sufficiently wowed, either by the food or the prospect of covering a doomed company's last chance to revive itself. The only people at Pier 36 who appeared to be using BlackBerry devices worked for BlackBerry, and gallows humor about the company's decline was on everyone's lips. ("Well, I guess they have enough money left to give us coffee," one reporter snickered.) The overall feel was less that of a major tech product launch than that of a Harlem Globetrotters game.
BlackBerry, of course, is the Washington Generals in this scenario, down by twenty with two minutes left in the fourth quarter. The company — which was known as Research in Motion until it renamed itself today — has seen its stock price plummet as iPhone and Android devices have taken over the smartphone world. The BlackBerry has been deserted by many of its core business and public-sector clients, and as Quartz notes, the BlackBerry 10 app store, which carries 70,000 apps, is still only a fraction of the size of the Apple and Android app stores. Moreover, the company has delayed BlackBerry 10, its last best hope, enough times that even if it were a world-changing device, it might be too late.
I will admit to having been premature in writing RIM's obituary last year. The company's stock price has gone up 125 percent since I wrote it off, as hope for BlackBerry 10 spread among tech investors. Even a series of ham-handed PR stunts couldn't stop RIM's late-stage momentum. And the BlackBerry 10 itself has gotten some good advance reviews. Even Pogue likes it!
So let's be fair and say that BlackBerry is only mostly dead. And contrary to the grave-dancing I did last year, I actually want the company to have a comeback. It has 12,000 employees who will be out of work if BlackBerry dies or is sold to a competitor, and more competition in the smartphone market will only be better for consumers.
That said, today's event was not the kind of Steve Jobsian extravaganza the company needed. Its heavily accented CEO Thorsten Heins, who has an odd kind of anti-charisma, tried his best to drum up enthusiasm, speaking about appealing to "people who are hyperconnected socially" with a "re-imagined" BlackBerry 10 that will start selling in the U.S. in March. (Two, actually — there is one model with a physical keyboard, and one without.) Alicia Keys made an appearance. And there are some good features in the new device — the most enticing of which is an easy, one-touch toggle between a personal profile and a business profile that the company is calling "BlackBerry Balance."
The problem, of course, is that a smartphone is not just a smartphone. Phones exist in entire ecosystems — with app stores, music subscriptions, proprietary accessories, in-house messaging systems — and once you've left BlackBerry and gotten sucked into the Apple or Android worlds, it's hard to climb back out. BlackBerry now composes just 1.6 percent of the U.S. smartphone market, and its share in foreign countries is also falling. Those former BlackBerry customers likely aren't returning, no matter how seamless the BlackBerry Hub (a new, unified notification thingy) looks or how well it performs.
BlackBerry knows that its chance, if it exists, likely doesn't rest here. It's aiming for foreign markets, where it hasn't been completely dominated yet, and where customers might still be willing to give it a chance. Before giving his spiel, Heins brought in the satellite-linked launch parties in Johannesburg, Paris, Toronto, and other global capitals, where fans looked and sounded considerably more excited than the ones here in New York.
In this room, at least, the mood is still bleak. No matter how many catchy pop-rock tunes they pipe in, no matter how many laser-light shows and nervous executives are put on display, this is still a company whose entire fate rests on the success of a single product. BlackBerry threw up a half-court shot at the buzzer, and is trying to ignore the fact that even a swish might not win the game.