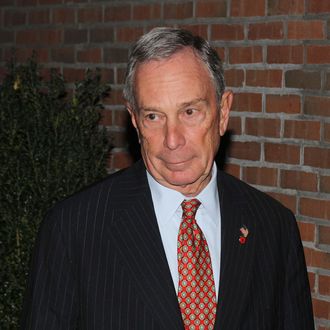 Photo: Rob Kim/2011 Getty Images
It's been more than a decade since Michael Bloomberg wasn't running for office or reelection, and he's having a hard time letting go. After last night's mayoral forum, in which most of the candidates tried to put some space between themselves and the long-reigning billionaire, Bloomberg sounded off on the radio this morning, the New York Times reports. "They just sound ridiculous," he said, in reference to Democrats John Liu and Bill de Blasio, who criticized his administration's response to Hurricane Sandy. "[They] had no idea what they're talking about." You can almost smell the fourth-term plotting.
Bloomberg said the candidates offered "no solutions" and doubted their sincerity: "I think there's always rhetoric that has nothing to do with what they would do in office."
And although the mayor previously vowed that he's "not going to spend the next year answering 'what do you think' of every potential candidate's ideas," he did stick up for an old pal: "The one aspirant who really hasn't engaged in most of this foolishness is Quinn," said Bloomberg. "She's much more rational and understands there's no simple solution to complex problems." Except, of course, changing the rules again and giving himself a few more years to sort everything out.