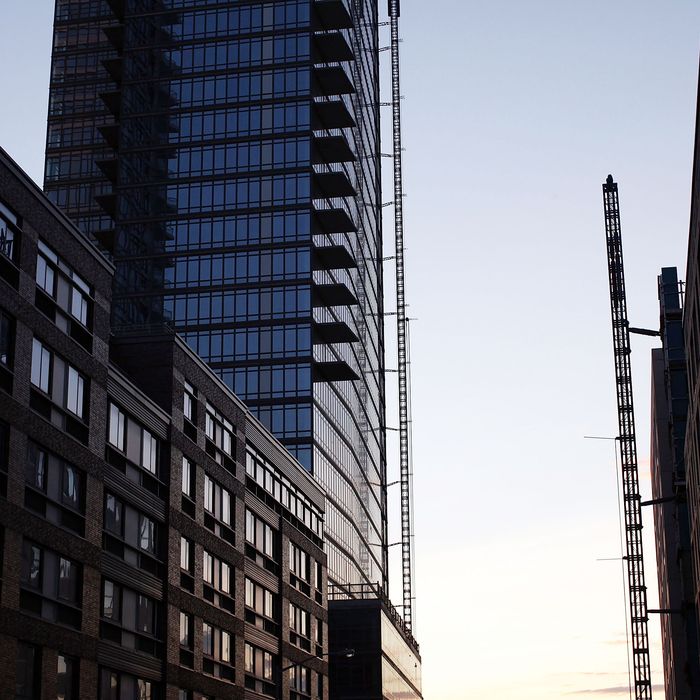 New apartment buildings are shown July 8, 2009 in the Brooklyn neighborhood of Williamsburg in New York City. Due to the fall in home sales and a period of hyper development, Williamsburg has become the center of stalled construction sites in New York City with 18 vacant lots and numerous half completed buildings. Industry experts speculate that the inventory of new apartments in Williamsburg could double next year if the economy fails to improve.
Photo: Spencer Platt/Getty Images
A decade ago, New York City's residential housing market was shifting from a simmer to a boil. Demand had grown so much that apartment-hunters who'd ordinarily stuck to certain neighborhoods in Manhattan took their search to the outer boroughs — Brooklyn, especially, where there were willing sellers and plenty of new places to explore.
The Brooklyn land rush eventually triggered new construction in places like Williamsburg, which allowed supply to keep up with ever-growing demand. However, after the financial meltdown, funding for projects dried up and banks tightened lending practices. Developers hit the pause button or turned their projects into rentals. Frank Persecepe of the Corcoran Group says when he saw this trend developing, he wondered when the market would hit the inventory wall.
It looks like that time is here.
Douglas Elliman's fourth quarter market survey, prepared by appraisal firm Miller Samuel, shows average and median Brooklyn sales prices up by a stunning 15.9 percent and 12.8 percent, respectively, compared to a year earlier. The average sales price now stands at $613,650; the median, $512,500. Corcoran's report found townhouses posting the most impressive gains. The median price for single families rose by a whopping 34 percent to $1.425 million, and by 64 percent to $1.395 million.
You'd think sellers would want to strike while the proverbial iron is hot. Except they have few places to move to because inventory is low, exacerbating the problem. The number of transactions have fallen 7.3 percent, to 1,445 deals.
If the inventory issue and still-tight lending standards (despite artificially low mortgage rates) don't let up, the market could lose the momentum it has, warns appraiser Jonathan Miller, who prepared the Douglas Elliman report. "The pricing rises and affordability drops, and you see sales activity level off," he says. "We can play this seesaw back and forth until we see real recovery happen and mortgage rates start to trend up slowly to more natural levels … It's a long healing process, but I'm encouraged."