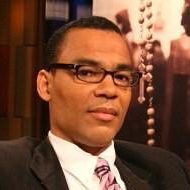 What else is in his inbox?
Photo: thomaslopezpierre.com
The running for Upper Manhattan's city council seat, currently held by Robert Jackson, sure is heating up. It seems that candidate Thomas Lopez-Pierre, who already expressed his distaste for opponent Mark Levine, has lashed out yet again. This time it was in an e-mail to Brian Benjamin, one of Levine's black supporters and a prominent Democratic fundraiser for the Obama campaign.
Benjamin choosing Levine to support instead of "eight other candidates in this race that are Black and Hispanic," really got Lopez-Pierre's goat (who is himself of Puerto Rican, Dominican, and Haitian descent) and he told Benjamin so in an e-mail yesterday, one he also sent to 30 uptown political figures. The purpose? To "disrespect [Benjamin], humiliate him."
The would-be councilman's most recent correspondence includes the lines:
"I see that you are on the host committee for Mark Levine for City Council. I would hope that one day you would give me the legal grounds to b***h slap you."
and
"What good does it do our community (by this I mean Black and Hispanic people) to have uncle Tom N*** b*** like you graduate from Ivy League schools if all you do is suck the c*** of guys like Mark Levine."
Lopez-Pierre confirmed to Capital New York's Azi Paybarah that he did indeed write the racially charged note. (Rather than pleading temporary insanity, like one might expect.) According to Capital, "Levine has the backing of most of the local Democratic establishment, and Lopez-Pierre is a longshot, to say the least" and we can't wait to see how the rest of this race pans out until November.