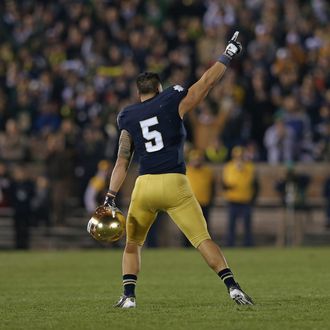 Photo: Jonathan Daniel/Getty Images
The obvious pop-cultural touchstone for the mind-boggling Deadspin story of linebacker Manti Te'o's fake dead girlfriend is the 2010 breakout documentary Catfish. With Te'o now claiming he was the victim of an elaborate Internet hoax, many are wondering just how the Notre Dame star could've been in such an intimate relationship with someone he'd never met. Nev Schulman, the star of Catfish and now its MTV spinoff show, became famous for being duped in a very similar way, so it's no surprise that he's vouching for the possibility that Te'o was not lying to win sympathy, but a simply a mark: "My reaction is, quite frankly, no different from my reaction on the show," Schulman told MTV, which signs his checks, last night. "It doesn't really change anything for me that this victim is a high-profile football player. I think it can and obviously does happen to anyone."
"When you make a connection with someone online, oftentimes it feels a little limited, but also safe," Schulman said. "And people, strangely, are more comfortable sharing information about themselves sometimes with strangers online, simply because it's someone who is outside of their normal circle of friends, much in the same way you share things with a therapist. People get very close with these online friends."
"I very much got sucked into a relationship — it wasn't my intention, but it happened to me — and it happens slowly over time," he continued. "And, of course, when you read an article all at once where it reveals all these stories and all these details, it seems crazy, but in the process of it, as it happens very slowly, things don't seem so crazy. And then, of course, when you look at it all in one snapshot, it does sort of seem kind of unbelievable."
But it's important to note that critics questioned Schulman the same way they're skeptical of Te'o's complicity now. From New York's Rebecca Milzoff in 2010:
Nev and [his brother, the film's director Rel Schulman] have lately found themselves defending their work — and that year in Nev's life —against skeptics who believe that his experience was planned or even flat-out fabricated. Super Size Me director Morgan Spurlock has called the film "the best fake documentary I've ever seen." One commenter on the website Deadline Hollywood wrote that "either the hipsters were incredibly dumb or else they knew exactly what they were doing."

Nev admits that both those statements are half-true. "I was really bored. My life was in limbo," he says of the moment Abby appeared. He'd dropped out of Sarah Lawrence and was paying his bills by making videos for bar mitzvahs. Megan provided the fantasy of a simple life. "I was unbelievably self-convincing," he admits. "There were so many red flags, but I was looking for an excuse to say, 'Oh, that makes sense.' That's the theme of all the trouble I get into."
The bottom line remains: Both the reporters who propagated the talltale for so long and Te'o, whose rumored one-on-one interview today has been scrapped, still have some explaining to do.