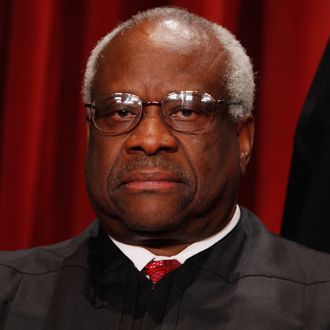 Comic legend.
Photo: Chip Somodevilla/Getty Images
It took more than a week, but the mystery of Clarence Thomas's unintelligible joke has finally been solved. ABC News reports that Alderson Reporting, "the company that transcribes all oral arguments," took a closer look at the recording of last Monday's oral arguments and determined that Thomas said, "Well, there, see: He did not provide good counsel."
Thomas was joking about the quality of a lawyer who had graduated from Harvard. Thomas graduated from Yale, which is a Harvard competitor. So you can see why everyone was laughing so hard.