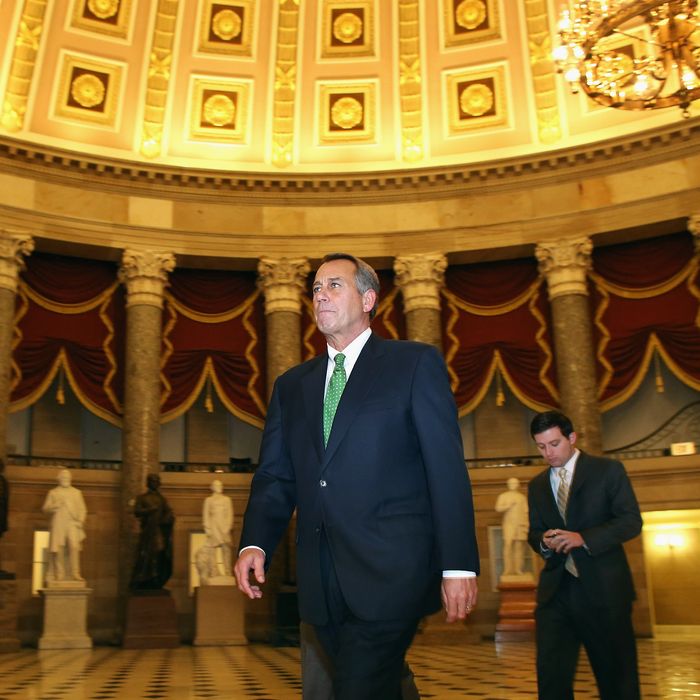 Photo: Chip Somodevilla/Getty Images
The House of Representatives passed a bill late Tuesday night to raise taxes on the rich and spare the rest income tax hikes that had expired on January 1.
A split Republican party joined Democrats to send the fiscal cliff deal to Obama, who is expected to sign it into law today. House Majority Leader John Boehner voted for the deal while his No. 2, Eric Cantor, voted against it. In all, 151 Republicans voted no, while 85 others joined Democrats in voting yes.
The deal almost didn't happen after the Senate passed it overwhelmingly on New Year's Day: Cantor's opposition threatened to blow up the deal on Tuesday on the basis that there were (practically) no spending cuts in the bill.
And even getting to yesterday wasn't easy. Days earlier, Boehner told Senate Majority Leader Harry Reid to "Go fuck yourself" outside the Oval Office. When Reid saw an offer Obama made McConnell that included provisions Senate Democrats opposed, the majority leader crumpled up the paper and threw it into his burning Senate fireplace.
Preventing the whole thing from going up in flames was the team of Vice-President Joe Biden and Senate Minority Leader Mitch McConnell. Biden counseled Obama to not wait until after the fiscal cliff to cut a deal. Politico reports:
The president did not believe the dynamic would suddenly shift in his favor after Jan. 1, rejecting the conventional wisdom in Washington that all sides would have more flexibility after higher tax rates took effect. Republicans were no more likely to compromise after the deadline than before it, the White House concluded. And there was a very real fear that a resolution wouldn't come for weeks, perhaps not before the country hit the debt limit in late February — a nightmare scenario that the president believed would destroy not only his leverage but also the still-fragile economy.