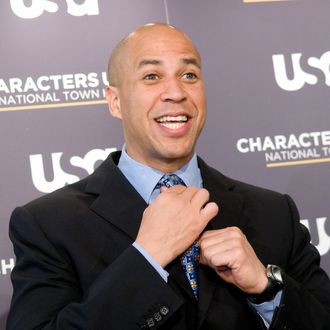 Photo: Kris Connor/2009 Getty Images
Newark mayor and Twitter addict Cory Booker, now an aspiring senator, has officially entered the "answer for everything he's ever done" phase of his career. The school paper at Stanford, where Booker played football, along with Buzzfeed, dug up a 1992 op-ed column in which Booker confronts his homophobia. In his "tolerance stage," Booker wrote, "I stopped telling my gay jokes. Fags, flamers and dykes became homosexuals and people of differing sexual orientation and, of course, I had my gay friend." But: "I was disgusted by gays. The thought of two men kissing each other was about as appealing as a frontal lobotomy."
He's unflinchingly honest, in a way only college columns can be. "Allow me to be more direct, escaping the euphemisms of my past — I hated gays," he wrote. "The disgust and latent hostility I felt toward gays were subcategories of hatred, plain and simple." It was a gay counselor at the university that began to change his mind:
Well, it didn't take me long to realize that the root of my hatred did not lie with gays but with myself. It was my problem. A problem I dealt with by ceasing to tolerate gays and instead seeking to embrace them.

In these efforts I have found another community with which I feel akin and from which I draw strength. The gay people with whom I am close are some of the strongest, most passionate and caring people I know and their demands for justice are no less imperative than those of any other community.
Booker concludes, "Alas, occasionally I still find myself acting defensive if someone thinks I am gay or sometimes I remain silent when others slam and slander." As a 43-year-old single man, Booker has not outrun such gossip entirely. "These realizations hurt me deeply," he wrote more than two decades ago. "I must continue to struggle for personal justice."
"I was writing about my teenage struggle for integrity," Booker tweeted today, in response to a compliment on the old article. "Thanks."