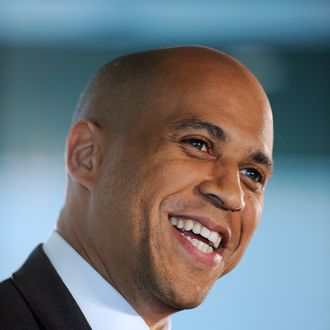 Before Newark Mayor Cory Booker can ascend to a higher level of government, he needs 88-year-old New Jersey Democrat Frank Lautenberg to get out of the way. Although Booker has not officially announced he's running for Lautenberg's Senate seat in 2014, he's very strongly suggested it, opting not to take on Chris Christie, a more immovable obstacle, for governor. "I want to give him the space to make his own decision," said Booker of Lautenberg today on CNN, thereby doing exactly the opposite. "He's been loyal. He's been there for a long time." Hint hint.
Lautenberg, who will be 89 this month, is the oldest member of the Senate. "This is not the time for political distractions, and the senator will address politics next year," his spokesman said when Booker announced his intentions to pursue the currently occupied spot.
"I hope to talk to him," Booker said. "We've reached out to him a number of times. In fact, I had a plane trip going down to meet with him, but unfortunately with a lot of the challenges going down in Washington, he had to cancel the meeting." Consider this a very public reminder to reschedule.