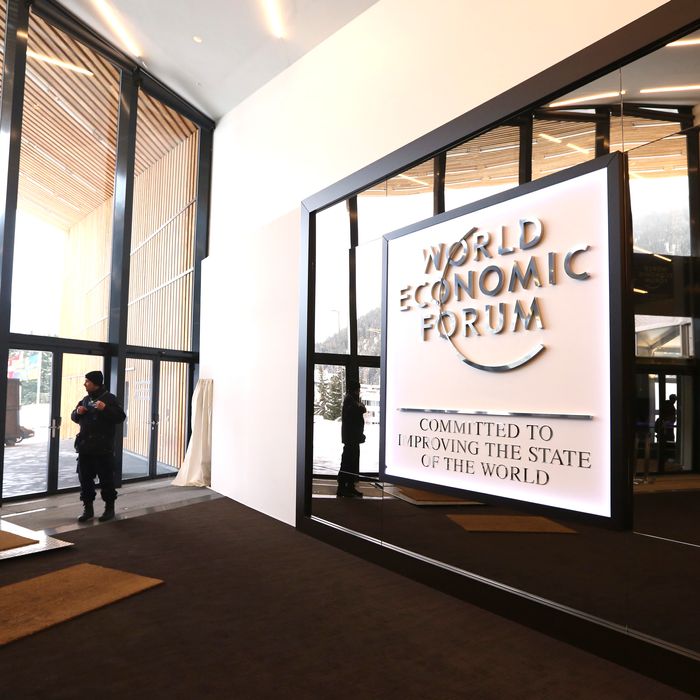 The global elite is gathering this week in Davos, Switzerland, for the annual self-congratulatory kaffeeklatsch known as the World Economic Forum. Going to Davos can be quite costly — between the private helicopters and charter planes required to get there, and the WEF membership fees and lodging/meal costs once you arrive, a trip can cost a business executive well into six figures. (CNN pegs the average cost of a Davos week at $40,000, but that doesn't take into account VIPs like the forum's "Strategic Partners," who pay more than $500,000 to send a five-person delegation.) While there, the assembled moguls will go to wine tastings, tweet about sightings of aging rock gods, and perhaps listen to people like Eric Cantor talk about high-minded ideas like "economic dynamism."
Quartz has a list of all 2,630 people who are registered for this year's WEF. Notably, the list includes many executives from struggling companies that are laying off workers and cutting back on expenditures elsewhere in their budgets. Here are some of the companies that are sending employees to Davos, despite their troubles:
PepsiCo (6 Davos-bound WEF attendees, including CEO Indra Nooyi): Announced last year that it was cutting 8,700 jobs as part of a global turnaround effort.
Thomson Reuters (12): Conducted an unknown number of layoffs last week. A company spokeswoman said at the time, "Similar to efforts across the company, the Reuters organization is focusing attention on our global cost structure as well as the need to simplify." (Costs for media organizations may be lower than for other organizations, since some journalists have their badges comped.)
The New York Times Company (4, including publisher Arthur Sulzberger): Currently cutting 30 positions, and offering buyouts to newsroom employees, in an effort to reduce costs.
Newsweek/Daily Beast (2): Recently shuttered its print version, and conducted many layoffs in an effort to further trim its expenses. (I hear that editor-in-chief Tina Brown will be hosting a Davos reception sponsored by Credit Suisse that is a "big moneymaker" for the company, so perhaps she'll be recouping her costs.)
Citigroup (7, including CEO Michael Corbat): Announced in December that it was laying off 11,000 employees and taking a $1 billion restructuring charge.
Morgan Stanley (5, including CEO James Gorman): Cut 4,200 jobs last year, and another 1,300 so far in 2013, and deferred year-end compensation for high-earning employees to shave expenses, in a cost-cutting measure Business Insider described as "brutal."
The Washington Post (3): Has reduced the size of its newsroom by more than 200 people since 2009 as advertising revenue dries up, with a round of cuts early last year.
Cisco (5, including CEO John Chambers): Laid off 1,300 people last year and is embarked on a long-term cost-cutting program to "drive simplicity."
Royal Bank of Scotland (2): Laid off at least 3,500 people last year under pressure from the British government (which owns the majority of its shares after a 2008 bailout).
Barclays (6, including CEO Antony Jenkins): Is expected to announce soon that it is cutting up to 10 percent of its workforce, after it struggled with profitability and a Libor-rigging scandal in 2012.
UBS (5, including CEO Sergio Ermotti): Announced in October that it is cutting 10,000 employees, or 16 percent of its staff. (In its defense, Davos is a short trip for executives at the Swiss bank.)
Renault/Renault-Nissan Alliance (3): Announced last week that it is cutting 7,500 jobs in order to save $540 million in annual fixed costs.
Some of these money-losing executives have viable business reasons to be at Davos; it is certainly a way to get in a lot of high-level face time with clients, investors, and peers in the industry. But their employees and shareholders might not be thrilled about the prospect of subsidizing a fancy Swiss boondoggle for executives, no matter how much "thought leader" networking comes out of it.